Trout Niçoise Super Sub
Début de l'été 2017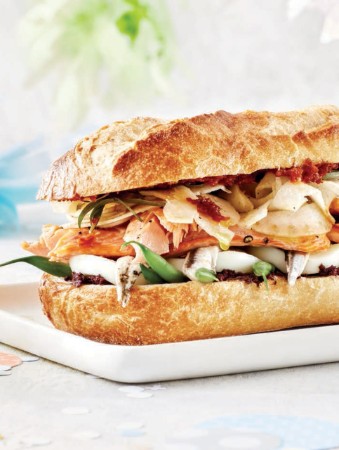 Trout Niçoise Super Sub
Début de l'été 2017
BY: Eric Vellend
This two-foot sammie is a spin on Provençal pan bagnat, with fresh trout swapped in for canned tuna, and vinegar-packed anchovies taking the place of their saltier brethren. You want a simple lighter-style baguette here— i.e. no artisanal thick crust or dense crumb. Wrapped tightly and refrigerated, this sandwich is still pretty good the next day, which makes it ideal for picnics or packed lunches.
VINAIGRETTE
¼ tsp (1 mL) finely grated garlic
2 tsp (10 mL) Dijon mustard
2 tbsp (30 mL) fresh lemon juice
2 tbsp (30 mL) red wine vinegar
½ cup (125 mL) extra virgin olive oil
Salt and freshly ground pepper to taste

SANDWICH
3 large eggs, at room temperature
1½ lbs (750 g) rainbow trout fillets
Salt and freshly ground pepper to taste
5 oz (150 g) haricots verts, trimmed
½ bulb fennel, trimmed
1 baguette, 24 inches (60 cm)
5 tbsp (75 mL) tapenade
16 white anchovies, drained, patted dry
¼ cup (60 mL) fresh tarragon leaves
5 tbsp (75 mL) sun-dried tomato pesto
1. For the vinaigrette, place garlic and Dijon in a mixing bowl. Whisk in lemon juice and vinegar. Slowly whisk in oil to form emulsified dressing. Season with salt and pepper. Transfer to an airtight container. (Dressing will keep in fridge up to 5 days. Shake before using.)

2. Place eggs in a small saucepan. Cover with cold water. Bring to boil over high heat. Cover and remove from heat. Let stand 15 minutes. Uncover and drain. Run eggs under cold water for 1 minute. Let stand covered in cold water for 20 minutes. Drain and peel.

3. Preheat oven to 350°F (180°C).

4. Place trout on a parchment-lined baking sheet. Pat dry with paper towel. Season with salt and pepper. Bake until just cooked through, 10 to 12 minutes. Cool completely. Remove and discard skins. Cut trout to fit the baguette.

5. Bring a large pot of salted water to boil. Cook beans until tender, 2 to 3 minutes. Transfer to a bowl of ice water. Cool, drain and dry on clean kitchen towel. Transfer to a mixing bowl.

6. Thinly slice fennel crosswise on mandoline, discarding cores (or save for stock). Place fennel in a separate mixing bowl.

7. Drizzle beans and fennel with enough vinaigrette to coat, about 2 tbsp (30 mL) in each bowl. Season each with salt and pepper. Toss to coat.

8. To assemble sandwich, cut baguette in half lengthwise. Using hands, remove bread from inside of bottom half to form a trough.

9. Smear bottom with tapenade. Arrange beans overtop. Slice eggs and place on top of beans. Drape anchovies over eggs. Arrange trout on top. Add a layer of fennel. Sprinkle with tarragon. Smear top half of baguette with sun-dried tomato pesto. Place on top. Cut into desired pieces and serve.
SHARE