Triple Ham & Cheese Shooter's-Style Sandwich
Début de l'été 2017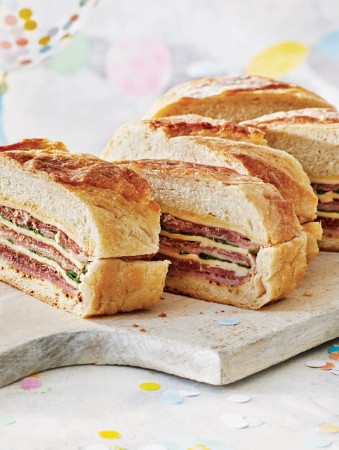 Triple Ham & Cheese Shooter's-Style Sandwich
Début de l'été 2017
BY: Eric Vellend
Hailing from Britain, the original shooter's sandwich was designed to be a sturdy, portable beef wellington that could be made a day ahead. This version features three kinds of ham, two kinds of mustard, harvarti and asparagus. Because it's pressed, you need a sturdy loaf such as the easy-to-find organic white oval from Ace Bakery. Serve this carnivorous treat with bread-and-butter pickles and plain potato chips.
½ bunch thin asparagus, about ½ lb (250 g)
1 oval loaf sturdy white bread, about 12 x 5 inches (30 x 13 cm)
3 tbsp (45 mL) grainy mustard
6 oz (175 g) prosciutto cotto, thinly sliced, divided
6 oz (175 g) smoked ham, thinly sliced, divided
4 oz (125 g) cured ham (prosciutto or serrano), thinly sliced, divided
½ lb (250 g) havarti, thinly sliced, divided
3 tbsp (45 mL) Dijon mustard
1. Remove tough ends of asparagus. (Discard or save for vegetable stock.) Bring a large pot of salted water to a boil. Cook asparagus until tender, 3 to 4 minutes. Transfer to a bowl of ice water. Cool, drain and dry on a clean kitchen towel. Cut in half lengthwise. Pat dry with paper towel.

2. Using a serrated knife, slice a 1½-inch-thick (4-cm) lid off top of bread. Score ½ inch (1-cm) border around bottom. Remove bread from inside border and save for another use.

3. Spread bottom with grainy mustard. Cover with single layer of prosciutto cotto, trimming to fit. Top with single layer of smoked ham then cured ham, also trimming to fit. Top with single layer of cheese, trimming to fit. Make a layer of asparagus halves. Make another tier of hams and cheese. Arrange remaining asparagus on top. Make a final tier of hams and cheeses. Spread cut side of bread top with Dijon. Place bread on top. Wrap tightly with foil.

4. In a cool spot, sandwich loaf between 2 cutting boards. Weigh down with heavy books or canned goods for 3 hours.

5. Serve immediately or wrap in plastic wrap and refrigerate for up to 1 day. Cut into 1½ inch (4 cm) slices.
SHARE