Triple Chocolate Torte
Spring 2005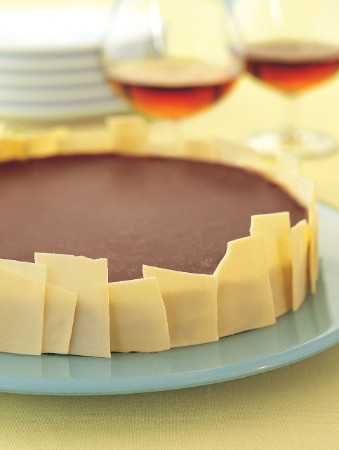 Triple Chocolate Torte
Spring 2005
BY: Lucy Waverman
This moist chocolate cake topped with a milk chocolate glaze and surrounded by white chocolate decorations is a fantastic triple threat. Use regular cocoa powder if Dutch process (a better-tasting cocoa) is not available.
4 oz (125 g) bittersweet chocolate, chopped into small pieces
½ cup (125 mL) unsalted butter, softened
½ cup (125 mL) packed brown sugar
¼ cup (50 mL) granulated sugar
2 eggs
½ cup (125 mL) all-purpose flour
2 tbsp (25 mL) Dutch process cocoa
¼ tsp (1 mL) salt
1 tsp (5 mL) vanilla

Milk Chocolate Ganache
8 oz (250 g) milk chocolate, chopped into small pieces
½ cup (125 mL) whipping cream

White Chocolate Rectangles
4 oz (125 g) white chocolate
1. Preheat oven to 350ºF (180ºC).

2. Invert the base of a 9-inch (23-cm) round springform pan so that it is 'lip'-side down (this prevents making an indent in the base of the cake). Grease pan and line bottom and sides with parchment paper.

3. Melt chocolate in a small, heavy pot over low heat, stirring occasionally. Set aside to cool.

4. Cream the butter and sugars in a large bowl until light and fluffy. Add the eggs one at a time, beating well between additions. In a separate bowl, sift together flour, cocoa and salt, and beat into egg mixture. Stir in the cooled melted chocolate and vanilla. Spoon into springform and spread into an even layer.

5. Bake for 25 to 30 minutes or until set and slightly puffed in centre. Let cool in pan.

6. For ganache, put milk chocolate in a bowl. Place cream in a small pot and bring to a boil. Pour over chocolate and stir to melt. When uniform, pour over cake layer in pan, ensuring that ganache spreads right to the edge of cake. Chill in refrigerator to set.

7. For white chocolate rectangles, place white chocolate in small, heavy pot over low heat. Melt slowly, stirring occasionally. When melted, use an offset spatula to spread chocolate very thinly on a parchment-lined cookie sheet in rectangles or other shapes that you like. They do not need to be uniform, as the cake looks more interesting when they are not. Place in refrigerator to harden. Remove sides from springform pan and place cake on serving dish. Working quickly, remove white chocolate from fridge, separate chocolate from parchment paper, break pieces and press against sides of the cake, overlapping slightly.
SHARE