Triple-Chocolate Carrot Cake with Blueberry Compote
Hiver 2019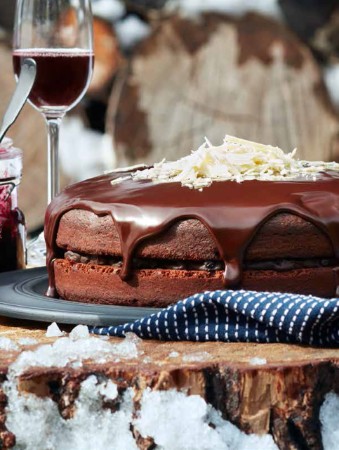 Triple-Chocolate Carrot Cake with Blueberry Compote
Hiver 2019
BY: Lisabeth Flanagan
This is a wonderful cake for a special occasion—dense dark and not too sweet. Peel and boil or steam at least 2 cups (500 mL) chopped carrots a day or two before making your cake; let cool, then purée them using a blender or immersion blender. Make extra to be safe, and use the rest for soup or to mix into mashed potatoes. Make the ganache before the cake, since you will need some of the ganache in the cake recipe, plus it will give your ganache some cooling time. Use chocolate that has at least 50 percent cocoa mass in it, although up to 70 percent will give you a darker, richer cake. You can use any kind of alcohol in the compote; I liked the late harvest Riesling, but port or other fortified wine would work too.
GANACHE
1 lb (455 g) chopped dark chocolate
1⅓ cups (330 mL) 18% cream
2 tbsp (30 mL) maple syrup

CAKE
½ cup (125 mL) dark brown sugar
½ cup (125 mL) maple syrup
½ cup (125 mL) canola oil
4 eggs
1 cup (250 mL) puréed cooked carrots
2¾ cups (675 mL) chocolate ganache, divided
2 cups (500 mL) all-purpose flour
1½ tsp (7 mL) baking soda
1 tsp (5 mL) salt
1 cup (250 mL) chopped milk chocolate, 5 oz (about 140 g)
½ cup (125 mL) dried wild blueberries
1 tbsp (30 mL) white chocolate shavings
¼ tsp (1 mL) ground cinnamon

COMPOTE
1 cup (250 mL) blueberry preserve
½ cup (125 mL) dried blueberries
½ cup (125 mL) sweet wine such as late harvest Riesling
Lemon juice to taste
1. For the ganache, place the chopped chocolate and cream in a heatproof, microwave-safe bowl and microwave in 30-second intervals until melted, about 2 minutes, stirring in between. Remove from the microwave and stir. If not all the chocolate is fully melted, place back in the microwave for 10-second intervals until the chocolate is fully melted. Stir until smooth, then add 2 tbsp (30 mL) maple syrup and stir until fully combined. Set aside while you make the cake.  You can also place chocolate and cream in a heavy pot and melt it stirring occasionally. You will have about 2¾ cups (675 mL) ganache.

2. For the cake, preheat oven to 350°F (180°C). Line two 9-inch (23-cm) cake pans with parchment paper.

3. Place the brown sugar, maple syrup, oil and eggs in a large bowl. Whisk together until smooth. Add the puréed carrots and 1 cup (250 mL) chocolate ganache and beat again until combined.

4. Place flour, baking soda and salt in a separate bowl and whisk together. Add flour mixture to chocolate-and-carrot mixture and stir until just combined. Toss in the milk chocolate chunks and stir in gently until evenly distributed. Pour the batter evenly into the cake pans.

5. Bake until a skewer inserted into the centre of each cake comes out clean, about 30 minutes.

6. Run a knife around the edges of the cooled cakes and turn out onto plates. Take 1 cup (250 mL) ganache and stir in blueberries. Slice the top of 1 cake so that it is level. Place flat cake on a serving dish, spread over the blueberry ganache and top with second cake, rounded side up. Heat remaining ¾ cup (175 mL) ganache in microwave until a pourable consistency, about 10 seconds. Pour the remaining ganache onto the top of the cake and spread around to edges, letting it drip lightly over the sides. You can use a spatula to smooth out and seal the edges (to help keep your cake moist longer) or leave it dripping in a nice pattern over the edges if serving the same day. Sprinkle cake with white chocolate shavings, cinnamon and serve with blueberry compote.

7. For the compote, heat blueberry preserve in a small pot over medium heat until melted, about 2 minutes. Stir in dried blueberries and wine, and simmer until berries are plumped and sauce is thickened, about 5 to 8 minutes. Stir in lemon juice. Serve with cake.


SHARE