Tomato Olive Oil Cake
Automne 2014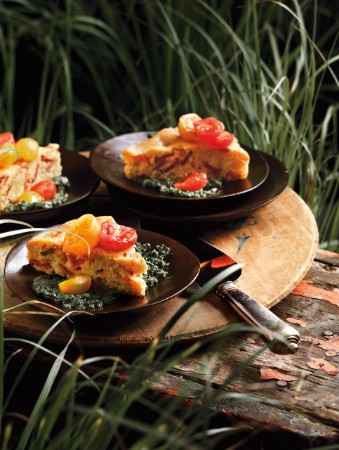 Tomato Olive Oil Cake
Automne 2014
BY: Lucy Waverman
This unusual savoury cake, a riff on a bacon lettuce and tomato sandwich, uses the bounty of summer tomatoes in a couple of ways. They are the liquid for the cake and also the garnish or salad with it. The pesto, made with mustard greens and basil, finishes the look and the taste. This makes a light main course for dinner or an appetizer before a barbecue. Omit the bacon and add some crunch with ½ cup (125 mL) chopped nuts for a vegetarian option.
CAKE
6 slices thick-cut, double smoked bacon, about 8 oz (250 g)
½ cup (125 mL) whole-wheat flour
¾ cup (175 mL) all-purpose flour
½ cup (125 mL) + 2 tbsp (30 mL)granulated sugar
1 tsp (5 mL) salt
1 tsp (5 mL) baking powder
¼ tsp (1 mL) baking soda
Pinch of cayenne
2 eggs, beaten
½ cup (125 mL) + 2 tbsp (30 mL) olive oil
1 cup (250 mL) skinned, seeded chopped tomatoes
Freshly ground pepper

MARINATED TOMATOES
2 cups (500 mL) cherry tomatoes
½ cup (125 mL) olive oil
2 tbsp (30 mL) white balsamic vinegar
Salt and freshly ground pepper

PESTO
2 cups (500 mL) mustard greens
¼ cup (60 mL) basil leaves
1 tsp (5 mL) chopped garlic
½ cup (125 mL) grated Parmesan
½ cup (125 mL) olive oil
1 Preheat oven to 350°F (180°C).

2 For cake, grease a 9-inch (23-cm) cake pan with oil and dust with flour, tapping out excess. Line the bottom with parchment paper.

3 Cook bacon in a frying pan over medium heat until fat has rendered and bacon is starting to crisp up, flipping occasionally, 5 to 8 minutes. Remove to a cutting board and dice.

4 Combine whole-wheat and all-purpose flour in a bowl. Stir in sugar, salt, baking powder, baking soda, cayenne and bacon. Whisk eggs in a medium bowl. While whisking, pour in olive oil and whisk until combined. Stir in chopped tomatoes. Slowly add wet ingredients into dry ingredients until well combined. Season with pepper to taste and spoon into cake pan.

5 Bake for 35 to 45 minutes or until a cake tester comes out clean. Cool on a rack for 10 minutes, then turn out of pan. Let cool completely.

6 For marinated tomatoes, drop cherry tomatoes into boiling water. Remove immediately and gently peel off skin. Transfer to a shallow bowl and drizzle with olive oil and balsamic. Season with salt and pepper. Let marinate at room temperature.

7 For pesto, combine mustard greens with basil, garlic and Parmesan in a blender or mini-chop. Pulse until chunky then slowly whirl in olive oil. Season with salt and pepper.

8 Cut cake into 6 slices and serve with mustard green pesto. Slice peeled tomatoes in half and scatter on the cake.
SHARE