Toasted Coconut & Dried Cherry Sleigh Mix
Temps des Fêtes 2011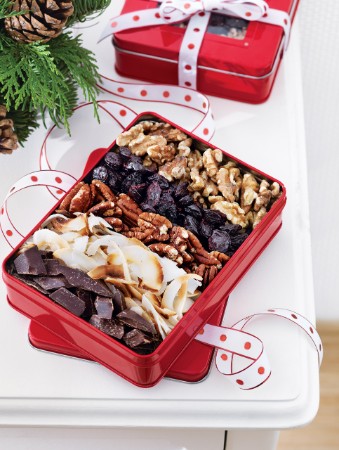 Toasted Coconut & Dried Cherry Sleigh Mix
Temps des Fêtes 2011
BY: Victoria Walsh
A scrumptious fruit and nut mix becomes addictive when chunks of dark chocolate and homemade coconut chips are thrown into the mix. If you don't have time to prepare the coconut chips, simply substitute with flaked sweet coconut (and skip coconut preparation).
1 coconut or 2 cups (500 mL) flaked sweetened coconut
1 tbsp (15 mL) icing sugar
1 cup (250 mL) pecan halves, about 3½ oz (105 g)
1 cup (250 mL) walnut halves, about 3½ oz (105 g)
¼ tsp (1 mL) salt (optional)
3½ oz (105 g) dark chocolate, preferably 70%
1 cup (250 mL) dried cherries
1 Preheat oven to 400°F (200°C).

2 Using a screwdriver, poke a hole in one of the "eyes" of the coconut—whichever one is soft.Whittle away to make a small hole. Pour coconut water into a bowl. Taste liquid. If it's sweet and coconut-flavoured, the coconut is good. If flavour tastes "off," discard and use a different coconut. Strain and reserve for another use (see TIP). Roast coconut on a baking sheet in centre of preheated oven until it cracks, 25 to 35 minutes. Let cool.

3 Reduce oven temperature to 300°F (150°C).

4 When cool enough to handle, peel hard outside shell from coconut. Using a vegetable peeler, peel and discard dark brown exterior from flesh. Peel coconut flesh into long strips onto a baking sheet.

5 Using a sieve, dust with icing sugar. Spread out nuts on another baking sheet. Sprinkle with salt, if using.

6 Bake nuts and coconut chips in top and bottom of oven until toasted, 6 to 8 minutes. Rotate sheets and stir ingredients halfway through. Remove each sheet from oven as it's done. Cool completely.

7 When nuts and coconut are cool, place in a large bowl. Chop chocolate. Stir into nuts and coconut chips along with dried cherries. Store in an airtight container, at room temperature for up to 1 month.

Makes 6 cups (1.5 L) for 3 to 6 gifts

TIP Add leftover coconut water to icy blended-fruit rum cocktails.
SHARE