Three Cheese Tart
Hiver 2007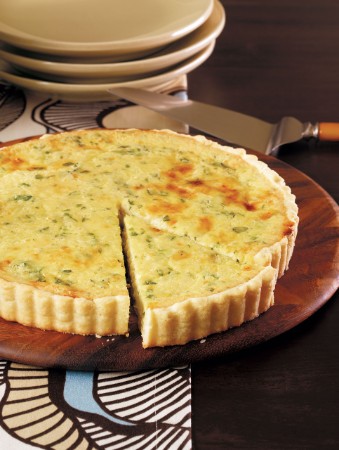 Three Cheese Tart
Hiver 2007
BY: Lucy Waverman
For the pastry, use all butter if organic or trans-fat-free shortening is not available. Use unsalted butter as it has less water than salted butter. See TIP for food processor method. Pastry is always good to have on hand and this makes enough for 2 tarts. Freeze one half for another use. Use a tart pan with 1½-inch (4-cm) sides. If you only have a low sided tart pan make it in a 10-inch (25-cm) pan. If Taleggio is unavailable use fontina.
3 cups (750 mL) all-purpose flour
1 tsp (5 mL) salt
¾ cup (175 mL) unsalted butter, cubed
¼ cup (50 mL) organic shortening, cut in pieces
1/3 cup (75 mL) cold water
1 tbsp (15 mL) white vinegar or lemon juice
¾ cup (175 mL) fresh ricotta cheese
¾ cup (175 mL) whipping cream
4 eggs
¾ cup (175 mL) grated Parmesan
1½ cups (375 mL) grated Taleggio cheese
2 tbsp (25 mL) Dijon mustard
1 tsp (5 ml) chopped fresh thyme
2 tbsp (25 mL) chopped parsley
Salt and freshly ground pepper
1. Preheat oven to 425ºF (220ºC).

2. Sift together flour and salt in a large bowl. Cut in butter and shortening until the mixture resembles coarse bread crumbs.

3. Combine water and vinegar or lemon juice in a separate bowl. Add enough of the liquid to gather pastry into a ball (you may need more or less depending on the humidity) and knead together gently. Divide dough into 2 equal portions and freeze 1 for future use.

4. Roll out pastry to fit into a 9-inch (23-cm) fluted tart tin. Line pastry with parchment paper or foil and fill with pie weights or beans to the top. Bake for 15 minutes, remove paper and weights and bake for 5 minutes longer or until pastry seems dry but is not coloured.

5. Reduce heat to 350ºF (180ºC).

6. Whisk ricotta with cream until smooth. Beat in eggs, Parmesan, Taleggio, mustard, thyme and parsley and season with salt and pepper.

7.Pour into tart shell and bake for 30 to 35 minutes or until filling is set.

TIP
To make pastry in a food processor, add flour, salt, butter and shortening to food processor, and pulse together. Add liquid but do not allow pastry to form a ball in the processor. Knead it together by hand.
SHARE