The Individual Cheese Course
Été 2008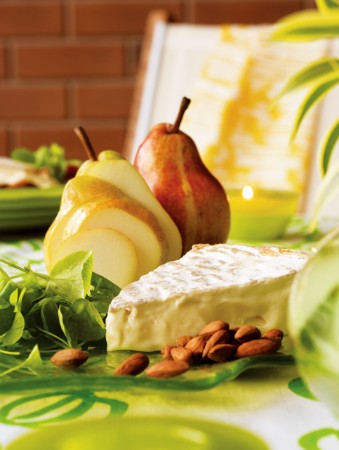 The Individual Cheese Course
Été 2008
BY: Lucy Waverman
To encourage conversation to continue after dinner or to finish any fine wines you may be drinking, presenting a cheese plate after the main course is a great idea. You can use several cheeses but I prefer to stick to one as it is easier to garnish.
My preference is for a creamy rich cheese such as the crowd-pleasing Quebec Riopelle de L'isles. Made from cow's milk, it is a salty triple crème cheese with a slightly tangy flavour. You will need about 2 oz (60 g) per person.

Make sure the cheese is at room temperature. If you are using Riopelle, cut a wedge and place on an attractive plate.

Make a simple salad with watercress tossed with a touch of good olive oil and a drop of balsamic vinegar. Finish with a sprinkle of finishing salt like Maldon. Place only a few leaves on the cheese plate and add a little pile of nuts. With a rich creamy cheese, a few slices of crisp apple or pear make a good contrast. Finish with some quince or fig chutney in small pot.

Accompany the cheese with a loaf of sliced baguette instead of crackers because it's a neutral background to the cheese—crackers, unless they are the right ones, can overwhelm.

The number of artisan cheeses made in Ontario and Quebec is growing daily so a trip to your local cheese store will give you plenty of options. Always taste before you buy. As a rule of thumb, creamy cheese should have something crisp to accompany it, while harder cheeses use chutneys or confits.

If you prefer a blue cheese, gorgonzola or the Quebec Benedictine Bleu are delicious and only needs some honey and a few figs alongside. If you prefer Stilton, the classic accompaniment is redcurrant jelly.
SHARE