The Best Chicken & Pork Dry Rub
Été 2018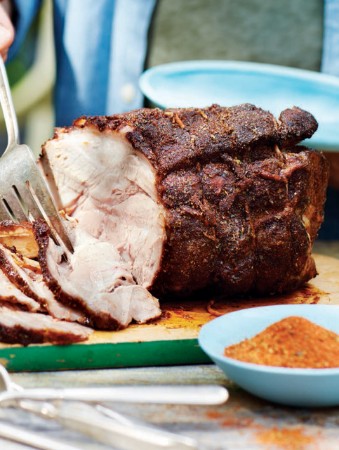 The Best Chicken & Pork Dry Rub
Été 2018
BY: Christopher St. Onge
Lime leaf and smoke is one of the world's best flavour combinations. It makes good sense then to combine lime leaf with more traditional ingredients in a dry rub destined for the BBQ. This one shines on chicken wings, beer-can chicken, pork ribs, shoulder and butt. Cook low and slow, preferably on a charcoal grill, over indirect heat. Layer flavour with your favourite BBQ sauce to finish. Fresh lime leaves shouldn't be substituted for dry. You can find dried ones at Asian grocers or online at Amazon.
2 tbsp (30 mL) paprika
2 tbsp (30 mL) smoked paprika
1 tbsp (15 mL) onion powder
1 tbsp (15 mL) granulated garlic
½ tsp (2 mL) cayenne
¼ cup (60 mL) packed brown sugar
2 tbsp (30 mL) salt
1 cup (250 mL) loosely packed dried lime leaves
¼ tsp (1 mL) finely ground black pepper
1. Combine all ingredients in a food processor and pulse until lime leaves are finely chopped.

2. Use ¼ cup (60 mL) for every 3 lbs (1.36 kg) meat and cook according to your favourite BBQ rib or chicken recipe where a dry rub is used.
SHARE