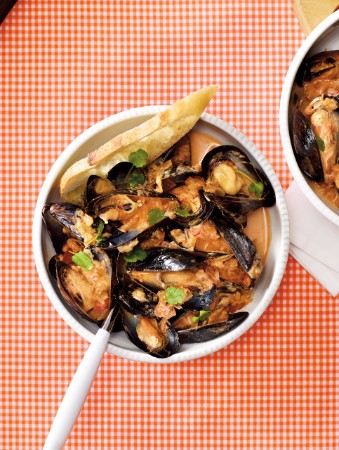 BY: Heather Trim
Plan on ½ to ¾ lb (250 to 375 g) mussels per person, and serve with a crisp green salad and a crusty baguette to soak up any sauce.
2 to 3 lbs (1 to 1.5 kg) mussels
1 tbsp (15 mL) vegetable oil
1 small onion, finely diced
2 garlic cloves, minced
2 tbsp (30 mL) Thai red curry paste
1 can (400 mL) unsweetened coconut milk
¼ cup (60 mL) lime juice, about 2 to 3 limes
1 tbsp (15 mL) fish sauce
1 tbsp (15 mL) granulated sugar
1 small tomato, diced
½ cup (125 mL) chopped coriander
1 Scrub mussels well and remove beards. In a very large saucepan (or 2 pans, dividing sauce ingredients between the 2), heat oil over medium heat. Add onion and cook 3 minutes then add garlic and curry paste. Stir until fragrant, about 1 minute. Add coconut milk, lime juice, fish sauce and sugar. Bring to a boil. Add tomato and stir. Then add mussels. Stir.

2 Cover and simmer, adjusting heat as needed, stirring occasionally until mussels have all opened, about 5 minutes. Stir in most of the coriander. Spoon mussels into 3 or 4 large bowls, discarding any that aren't open. Pour coconut milk broth overtop, then sprinkle with reserved coriander.
SHARE