Tequila Punch
Early Summer 2015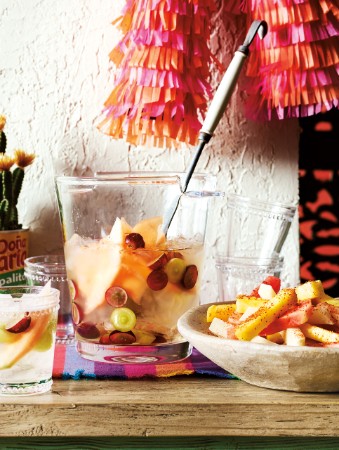 Tequila Punch
Early Summer 2015
BY: Amy Rosen
Here's a great new punch that serves a party—and makes the party. With tons of fresh fruit, tequila, sparkling wine, late harvest Vidal and lime, the balanced flavours make for easy sipping.
4 cups (1 L) fresh fruit (anything goes—think pineapple, apples, grapes, melon…)
2 cups (500 mL) blanco tequila, chilled
2 cups (500 mL) late harvest Vidal, chilled
Juice of a lime
1 tbsp (15 mL) agave syrup
Ice
1 bottle (750 mL) sparkling wine, chilled
1 Combine fruit, tequila, late harvest Vidal, lime juice and agave in a large punch bowl. Stir to combine, then add plenty of ice. Ladle out into glasses, top each glass with sparkling wine.
SHARE