Tea & Lemon-Tarragon Collins
Early Summer 2014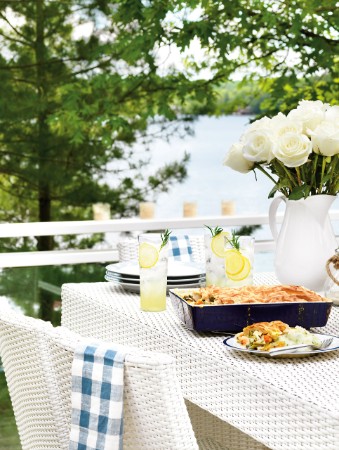 Tea & Lemon-Tarragon Collins
Early Summer 2014
BY: Victoria Walsh
Citrus, tea and herb flavours are perfectly balanced in this lovely tall drink. It's not cloying in the least, making it perfect for sipping with supper in place of the usual glass of wine. The syrup will keep well, covered and refrigerated, for at least 1 week. Infused gin will keep well in a sealed container for at least 1 month.
TEA-INFUSED GIN
2 cups (500 mL) London dry gin
2 chamomile tea bags

LEMON-TARRAGON SYRUP
¾ cup (175 mL) granulated sugar
¾ cup (175 mL) water
1 lemon
¼ cup (60 mL) chopped tarragon

Ice cubes
6 oz club soda
Sprig tarragon
1 lemon
1 Pour gin into a large measuring cup. Add tea bags. Steep for 15 minutes. Remove and discard tea bags.

2 Meanwhile, place sugar, water, 5 strips of lemon peel and chopped tarragon in a medium saucepan. Set over medium heat. Stir occasionally for 5 minutes or until sugar dissolves. Let cool completely. When cool, fine-strain through cheesecloth.

3 Squeeze ½ oz juice from zested lemon. Pour lemon juice, 2 oz tea-infused gin, ¾ oz lemon-tarragon syrup into an ice-filled Collins glass. Stir until chilled. Top with club soda. Stir with a tarragon sprig. Garnish drink with a lemon wheel.
Makes 1 cocktail and 1 cup (250 mL) lemon-tarragon syrup and 2 cups tea-infused gin
SHARE