Tarragon-Roasted Chicken Thighs with Mushrooms & Leeks
Printemps 2017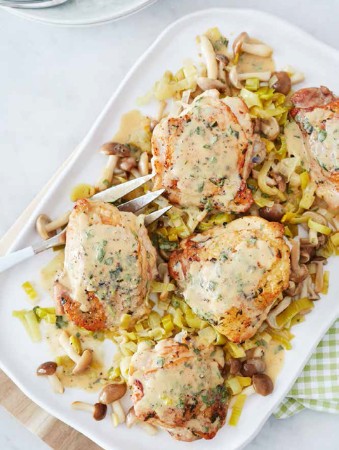 Tarragon-Roasted Chicken Thighs with Mushrooms & Leeks
Printemps 2017
BY: Lucy Waverman
The subtle licorice flavour of tarragon matches the mellow juiciness of chicken thighs for an outstanding dish. Tarragon can also be stuffed under the skin for a more pronounced flavour. Mushrooms and tarragon are a great match.
This is a perfect dish for entertaining. Full of flavour and textures, it can be prepared until the baking stage and baked when needed. Honey mushrooms are small mushrooms packed with flavour. They are available at farmers' markets and upscale vegetable stores. Substitute with 6 oz (175 g) quartered shiitakes if you can't find them. Discard the dark green coarser leaves of the leeks or freeze them to make a stock.
1 tbsp (15 mL) chopped fresh tarragon
2 lbs (1 kg) chicken thighs with bone and skin on
Salt and freshly ground pepper
1 tbsp (15 mL) butter
1 tbsp (15 mL) olive oil
2 cups (500 mL) leeks, sliced in ¼ inch (5 mm) slices, about 3 leeks
8 oz (250 g) honey mushrooms
1 tsp (5 mL) chopped garlic

SAUCE

1 tbsp (15 mL) Dijon mustard
2 tbsp (30 mL) apple cider vinegar
3 tbsp (45 mL) unsalted butter
Salt and freshly ground pepper
1 tbsp (15 mL) chopped fresh tarragon
1 Preheat oven to 400°F (200°C).

2 Scatter tarragon over chicken thighs and season with salt and pepper. Heat butter and oil in a skillet over high heat and add thighs, skin-side down. Cook for 3 minutes or until skin is golden. Flip over and cook another 2 minutes. Remove thighs to a plate. Drain all but 2 tbsp (30 mL) fat from pan.

3 Reduce heat to medium and add leeks and honey mushrooms to skillet. Sauté until softened, about 2 minutes. Add garlic and cook until fragrant, about 1 more minute. Scrape vegetables into casserole dish, reserving skillet. Top with chicken thighs. Bake for 20 to 30 minutes or until chicken juices are clear. Remove from oven and keep thighs and vegetables warm.

4 Tip baking juices from casserole into reserved skillet. Whisk in mustard and vinegar and bring to boil over high heat, scraping up any brown bits into sauce. Reduce heat to medium-low and add in butter, whisking until sauce thickens slightly, about 2 minutes. Taste for seasoning, adding salt and pepper as needed. Add tarragon to sauce just before serving. Drizzle sauce over and around thighs and vegetables to serve.


SHARE