Tandoori Chicken & Pineapple Meatballs with Puffed Rice Crunch
Temps des Fêtes 2013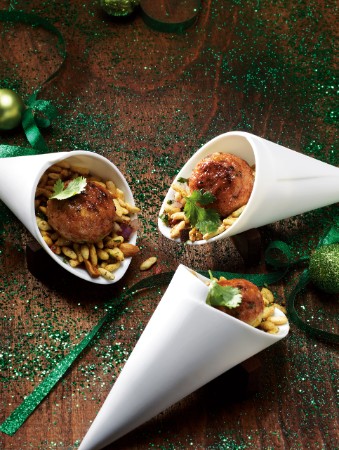 Tandoori Chicken & Pineapple Meatballs with Puffed Rice Crunch
Temps des Fêtes 2013
BY: Christopher St. Onge
These addictive meatballs are served with highly seasoned, crunchy puffed rice featuring fresh curry leaves. Native to India, curry leaves are a culinary herb increasingly available at large, well-stocked grocers; if unavailable, simply omit. Because pre-packaged ground chicken can be quite wet, it's best to purchase from a full-service butcher who will grind to order.
PUFFED RICE CRUNCH
1½ tsp (7 mL) garam masala
1½ tsp (7 mL) yellow mustard seed
½ tsp (2 mL) turmeric
½ tsp (2 mL) salt
1 tsp (5 mL) sugar
3 tbsp (45 mL) vegetable oil or canola oil
¼ cup (60 mL) roughly chopped, unsalted, roasted peanuts
6 curry leaves, torn (optional)
3 cloves garlic, finely chopped
3 cups (750 mL) puffed rice
¼ cup (60 mL) finely diced red onion, soaked in cool water for 30 minutes
1 fresh cayenne, seeded and finely chopped
1 tsp (5 mL) finely grated lime zest
¼ cup (60 mL) finely chopped cilantro

MEATBALLS
2 tbsp (30 mL) tandoori paste
2 tsp (10 mL) lemon juice
½ cup (125 mL) yogurt
1 tbsp (15 mL) vegetable oil or canola oil
¼ cup (60 mL) water
1 lb (500 g) ground chicken
½ cup (125 mL) finely chopped chives
2 cloves garlic, finely chopped
1 inch (2.5 cm) piece ginger, peeled and finely chopped
½ cup (125 mL) finely chopped pineapple
1 tsp (5 mL) salt
¼ tsp (1 mL) freshly ground black pepper
½ cup (125 mL) panko bread crumbs
1 To make the puffed rice crunch, combine garam masala, mustard seed, turmeric, salt and sugar in a small bowl; set aside.

2 Heat oil in a large skillet over medium-low. Add peanuts and curry leaves and cook for 3 to 4 minutes, stirring often, or until peanuts are golden. Stir in garlic and cook an additional 30 seconds. Add puffed rice to skillet and sprinkle spice mixture over. Stirring constantly, continue to cook for 2 to 3 minutes longer or until puffed rice is lightly toasted. Remove from heat and allow to cool (crunch may be made to this point and kept tightly covered for up to a week). When ready to serve, drain onions and dry well by blotting with paper towel. Add to puffed rice mixture along with fresh cayenne, lime zest and cilantro; toss to combine.3 For the meatballs, preheat oven to 425°F (220°C).

4 Combine tandoori paste, lemon juice, yogurt, vegetable oil and ¼ cup (60 mL) water in a 9 x 13-inch (23 x 33-cm) baking dish. Set aside.

5 Add chicken, chives, garlic, ginger, pineapple, salt, pepper and panko to a large bowl; mix to combine. Using wet hands (chicken mixture will be sticky), roll into 16 meatballs, about 1¼ inches (3 cm) across. Add to baking dish and gently roll in tandoori mixture to coat. Bake for 25 minutes, or until cooked through and lightly browned.

6 Serve individual meatballs over a scant ¼‹cup (60 mL) of the pu'ed rice crunch on cocktail plates, or in small paper cones accompanied by a fork.
SHARE