Swiss Cocoa Almonds
Temps des Fêtes 2004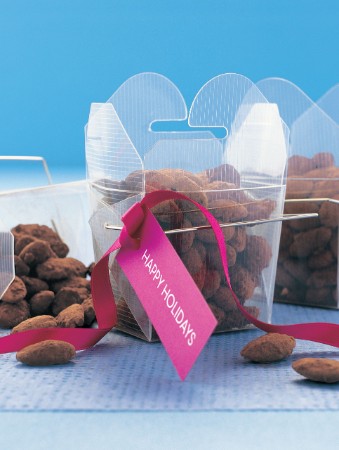 Swiss Cocoa Almonds
Temps des Fêtes 2004
BY: Anna Olson
I was given these almonds as a hostess gift over two years ago and was so impressed that I spent a good deal of time trying to replicate them. I eventually realized the secret was not so much in the toasted almonds as in their sheer layer of crunchy caramel and delectably bitter dusting of cocoa.
2/3 cup (150 mL) sugar
1/3 cup (75 mL) water
3 cups (750 mL) whole blanched almonds, toasted
¼ cup (50 mL) Dutch process cocoa powder
¼ tsp (1 mL) fine salt
1. Line a baking tray with parchment, and grease lightly.

2. Bring sugar and water to a boil over high heat and cook until sugar reads 248ºF (120ºC) on a candy thermometer. If you do not have a candy thermometer, test by spooning a little hot sugar into a cup of tepid water - sugar is set when it creates a "thread" when pulled between your fingers. Add almonds all at once and stir with a wooden spoon. Reduce heat to medium and continue cooking and stirring - sugar will turn white and frosty. After about 5 minutes, sugar will re-melt and caramelize roughly over almonds. Turn almonds onto a baking sheet and spread to cool.

3. Place cooled almonds into a re-sealable bag with cocoa powder and salt, and toss to coat. Package as desired. Almonds can be prepared up to 3 weeks in advance and stored in an airtight container at room temperature.
SHARE