Sweet Cherry & Blackberry Lattice Pie
Été 2015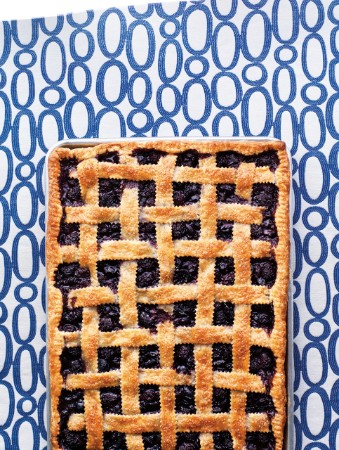 Sweet Cherry & Blackberry Lattice Pie
Été 2015
BY: Eshun Mott
Sweet cherries lack enough acidity to really sing on their own in a pie, but add blackberries and you have a ribbon-worthy pie. Lattice pastry tops are harder to describe than they are to make, and they do make this slab pie look special, but you could roll a solid pastry top and cut decorative vents in it if you prefer. Serve with lemon ice cream.
Slab Pie Pastry for 2 slab pie crusts (recipe follows)

FILLING

2 lbs plus 6 oz (1.175 kg) sweet cherries, halved and pitted
1 lb plus 4 oz (625 g) blackberries
¾ cup (175 mL) sugar
1 tbsp (15 mL) lemon juice
½ tsp (2 mL) lemon zest
¼ tsp (1 mL) salt
½ cup (125 mL) tapioca flour/starch

FINISH
1 egg beaten with 1 tsp (5 mL) whipping cream
2 tbsp (30 mL) turbinado or coarse sugar
1 Preheat oven to 425°F (220°C).


2 Line the bottom of a 13 x 17-inch (33 x 43‑cm) rimmed baking sheet (jelly-roll pan) with parchment paper. Roll pastry out on a
lightly floured surface into a rectangle about 15 x 19 inches (38 x 48 cm). Fit pastry into prepared baking sheet and trim so that overhanging edge is about ¾ inches (2 cm) wide all around. Chill. Roll second piece of pastry into a similar-sized rectangle, transfer to a piece of parchment, and use a ruler and a fluted pastry wheel (a pizza wheel or knife also works fine) to cut pastry into about 13 strips about ¾ inches (2 cm) wide (you will need 5 long strips and 8 shorter strips). Slide pastry and parchment onto a baking sheet and chill until filling is ready.

3 Combine cherries, blackberries, sugar, lemon juice, zest and salt in a bowl and stir gently to mix. Let stand 10 minutes or until sugar has dissolved and fruit looks juicy. Add tapioca and stir gently until it coats the fruit and is completely moistened. Spread fruit and any juices into prepared pastry crust in an even layer.

4 Lay 5 long strips of pastry lengthwise (evenly spaced) on top of fruit. You are going to basket weave the pastry strips. Fold alternating strips back onto themselves at the midpoint. Lay 1 strip of pastry across them. Fold the long pastry strips back into position, then fold back the other alternating strips and lay another strip across. Continue in this manner until you have about 8 strips of pastry woven evenly spaced across the width of the pie. Use a little water to moisten the underside of the pastry strips where they meet the crust to help them stick together. Trim both the bottom crust and the strips to about a ¾-inch (2-cm) overhang. Lightly moisten the edge with water and fold over to create a pastry lip. Use the tines of a fork to decoratively compress edges all the way around. Brush all pastry with egg-whipping cream wash and sprinkle with turbinado sugar.

5 Bake for 30 minutes, then turn oven down to 375°F (190°C) and bake for 20 minutes longer or until fruit juices are bubbling and thickened and pastry is golden and cooked through.

SLAB PIE PASTRY

Making large quantities of pastry can be tricky as it's too large a quantity to fit in your food processor. Grating sticks of frozen butter allows you to work it in without overworking the dough. Buy butter pre-wrapped in sticks, or cut 1 lb (454 g) lengthwise into 4 sticks and freeze for at least 2 hours or overnight.

5 cups (1.25 L), or for 1 crust: 2½ cups (625 mL) all-purpose flour
2 tsp (10 mL), or for 1 crust: 1 tsp (5 mL) kosher salt
1 tbsp (15 mL), or for 1 crust: 1½ tsp (7 mL) sugar
2 cups (500 mL), or for 1 crust: 1 cup (250 mL) frozen unsalted butter
1½ cups (375 mL), or for 1 crust: ¾ cup (175 mL) cold water
2 tbsp (30 mL), or for 1 crust: 1 tbsp (15 mL) lemon juice
1 Combine flour, salt and sugar in a large bowl.Working with 1 stick of butter at a time, coarsely grate into flour mixture. Toss to coat, then repeat until all the butter has been incorporated.

2 Combine water and lemon juice. Drizzle into the flour mixture a little at a time, stirring or kneading gently until all the flour has been incorporated and you can bring dough into a ball (you may need to add slightly more or less liquid depending on how much the butter has worked through the dough). Cut ball of dough in half if you have made enough for 2 crusts; wrap in plastic, and flatten into rectangular discs. Chill for 2 hours or overnight.
Makes either 1 double or 1 single slab pie crust
SHARE