Sunshine On My Shoulders
Début de l'été 2009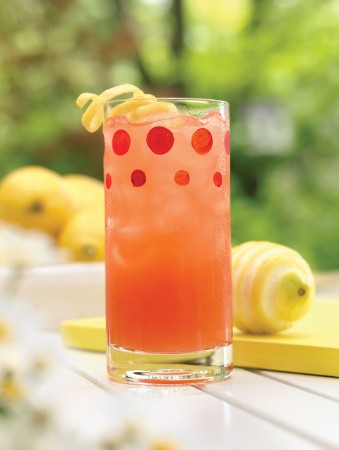 Sunshine On My Shoulders
Début de l'été 2009
BY: Michelle P. E. Hunt and Laura Panter
Many people think that the rind of the lemon is bitter, but it's actually the white pith that emits the bitter taste—and the rind is what holds oils that add a lovely zing to the palate. Here we combine this with sweet melons for a unique taste experience.
To a cocktail shaker, add 1⁄2 cup diced fresh watermelon, 1⁄4 cup diced fresh honeydew melon, 1⁄2 oz lemon juice, 1⁄2 oz simple syrup* and 1⁄2 tsp grated lemon zest. Mash or muddle the fruit well. Fill the shaker with ice and add 1 1⁄2 oz rum and 2 oz white cranberry juice. Shake sharply and strain into a tall glass with ice. Garnish with a long lemon twist.

*Simple syrup is made by combining equal parts sugar and boiling water, then stirring until dissolved. Chill before using.
SHARE