Summer Rosé Granita
APRIL 2017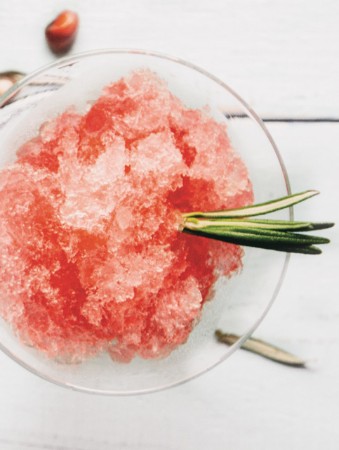 Summer Rosé Granita
APRIL 2017
Part of our new collection of delicious recipes.
¾ cup (185 mL) sugar
1 cup (250 mL) water
1 25-oz (750-mL) bottle rosé
Juice of 1 orange (remove zest for garnish before juicing)
Juice of ½ a lemon (remove zest before juicing)
1 tsp lemon zest
3-inch (8-cm) piece of cinnamon stick
½ cup (125 mL) chopped strawberries
A few strawberries for garnish



1. In a medium sauce pan bring to the boil sugar, water, Rosé and juices.

2. Remove from the heat and add the lemon zest, cinnamon stick and chopped strawberries. Allow to cool. Pass through a fine sieve pressing to release any juices from the strawberries.

3. Pour into a container with a lid and place in the freezer till nearly frozen. Stir and allow to freeze over night.

4. Serve in a wine glass garnished with orange or lemon zest and a strawberry. Will keep for one month in the freezer.
SHARE