Strawberry Rosé Cooler
AVRIL 2017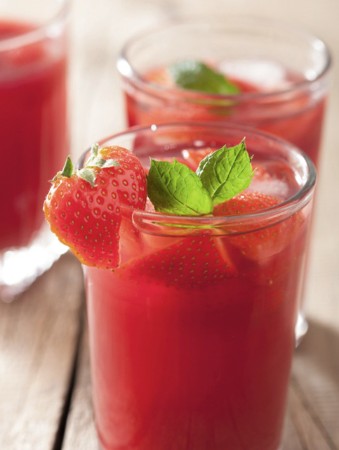 Strawberry Rosé Cooler
AVRIL 2017
1 lb (450 g) fresh strawberries, washed and hulled, plus a few for garnish
2 oz (60 mL) chilled Vodka
Pinch of Kosher salt
2 25-oz (750-mL) bottles off-dry rosé
Fresh mint for garnish
In a blender, place strawberries, vodka and salt. Blend 1 minute until smooth.


Pour this mixture into a sieve, over a large pitcher, collecting the delicious strawberry and Vodka nectar.


Press this mixture with a wooden spoon to release all of the juice. Add both bottles of rosé to the pitcher and chill until ready to serve.


Serve over ice in Collins glasses and garnish with sliced strawberries and a sprig of fresh mint.
SHARE