Strawberry Patch Agua & Rosé
Été 2014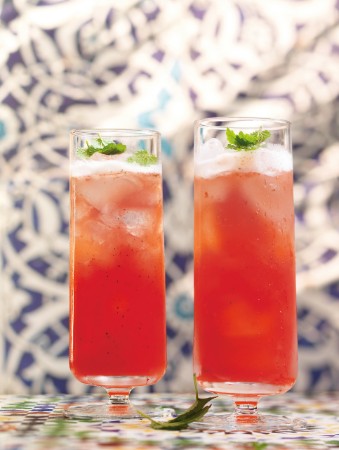 Strawberry Patch Agua & Rosé
Été 2014
BY: Christopher St. Onge
The agua fresca at the heart of this beautiful sipper is more concentrated than the others in order to stand up to the wine. If serving a version without wine, dilute the agua fresca with an additional 2 cups (500 mL) water.
1 In a blender, combine 1 cup (250 mL) freshly squeezed orange juice, ⅓ cup (80 mL) freshly squeezed lime juice, ⅔ cup (150 mL) Simple Syrup (recipe follows), 2 cups (500 mL) hulled and chopped strawberries, 2 small sprigs spearmint and 10 lemon balm leaves; purée.

2 Strain mixture through a fine mesh sieve into a large pitcher, stir in 1 cup (250 mL) cold water and chill.

3 When ready to serve, fill tall glasses with ice and pour half full with agua fresca. Top with your favourite chilled rosé wine. Garnish with spearmint leaves, if desired.
Makes 1 L, enough for 12 to 14 drinks

Simple Syrup:
Combine equal parts sugar and boiling water. Stir until sugar has dissolved. Store in the refrigerator until chilled.
SHARE