Sticky Toffee Pudding
Winter 2006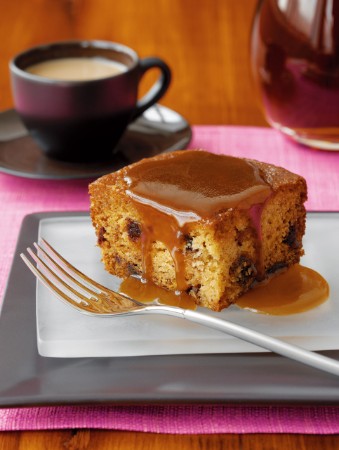 Sticky Toffee Pudding
Winter 2006
BY: Jennifer McLagan
Packaged pitted whole dates are the best choice for this dessert. Rich and sweet, this pudding is delicious served with thick yogurt or crème fraîche. It also reheats very well.
1 cup (250 mL) pitted dates, chopped
1 tsp (5 mL) baking soda
1¼ cups (300 mL) boiling water
¼ cup (50 mL) butter, softened
¾ cup (175 mL) granulated sugar
2 eggs
1½ tsp (7 mL) vanilla extract
1 1/3 cups (325 mL) flour
2½ tsp (12 mL) baking powder
1½ cups (375 mL) brown sugar
2/3 cup (150 mL) whipping cream
2/3 cup (150 mL) butter, diced
2 tbsp (25 mL) dark rum
1. Preheat the oven to 350ºF (180ºC).

2. Butter a 7-inch (18-cm) square baking pan and line the bottom with parchment paper. Place the dates in a bowl and add the baking soda. Pour over the boiling water and let the dates stand.

3. Beat the butter and granulated sugar until light, then add the eggs 1 at a time, then ½ tsp (2 mL) vanilla extract. Sift the flour with the baking powder and mix into the butter and egg mixture. Stir in the dates and water. Pour the batter into the prepared pan and bake for 30 minutes or until a skewer inserted in the cake's centre comes out clean.

4. While the cake is baking, bring the brown sugar, whipping cream and butter to a boil in a saucepan. Reduce the heat and simmer for 5 minutes. Remove from the heat and add the remaining vanilla extract and rum. You will have about 2 cups (500 mL) sauce.

5. Pour ½ cup (125 mL) sauce over the warm cake and let stand for 2 to 3 minutes to allow the sauce to soak in. Cut into squares and serve with the remaining warm, not hot, sauce.
SHARE