Sticky Oven Ribs
Winter 2011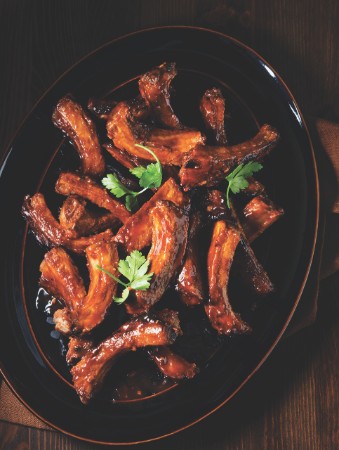 Sticky Oven Ribs
Winter 2011
BY: Monda Rosenberg
Flavour builds up in layers on these meaty back ribs, which are the equal of any ribs fresh off a BBQ. Powdered forms of onion and garlic, rather than fresh, are better in rubs. Ratchet up spicy heat by using the greater amount of cayenne (however, more than 2 tsp/10/mL takes spiciness into the suicide range).
BRAISE
2 racks meaty pork back ribs, together about
4 to 5 lbs (2 to 2.2 kg)
1 cup (250 mL) chicken broth or stock

RUB
1 tbsp (15 mL) onion powder
2 tsp (10 mL) each of paprika and garlic powder
1 to 2 tsp (5 to 10 mL) cayenne
1 tsp (5 mL) freshly ground black pepper
1 tsp (5 mL) salt

SLATHER
½ cup (125 mL) fancy molasses
½ cup (125 mL) ketchup
2 large garlic cloves, minced
1½ tsp (7 mL) Dijon mustard
1 tbsp (15 mL) cider vinegar
1. Arrange rack to centre; preheat oven to 375°F (190°C).

2. Cut racks into sections, usually halves, to fit in a single layer in a 10 x 15-inch (4-L) dish or large roasting pan or oven broiling pan bottom. Arrange meaty-side down. Pour broth over ribs; snugly cover dish with aluminum foil. Bake 1 hour.

3. Remove ribs from pan to cool; drain off all pan juices. Ribs can be made ahead to this point, covered and promptly refrigerated for up to 2 days. (Save strained juices, covered in refrigerator or freezer. Use to add excellent flavour to roast pork gravy, spaghetti sauce or lentil soup.)

4. Line a large baking pan (with sides) with foil for easy cleanup. Increase oven temperature to 425°F (220°C).

5. Stir rub ingredients together. Dry ribs with paper towels. Sprinkle and press spices into meaty areas, putting only a slight amount on the bony side. Now turn bony-side up to easily cut into single ribs.

6. Prop meaty-side-up single ribs against each other in foil-lined pan. Bake uncovered for 30 to 35 minutes (15 to 20 minutes longer if ribs have been refrigerated) or until sizzling and browned. Drain fat from pan.

7. Meanwhile, stir molasses with ketchup, garlic, mustard and vinegar. Slather meaty tops with a third of sauce. Bake ribs, uncovered, for 5 minutes. Then turn ribs on side and baste again; bake 5 minutes. Finally turn ribs to other side and baste with remaining sauce; bake 5 minutes or until glazed.

8. Pile onto a heated platter. Serve with Smoky Roasted Sweet Potatoes, cooling coleslaw and lots of napkins!
SHARE