Spring Mignonette
Printemps 2014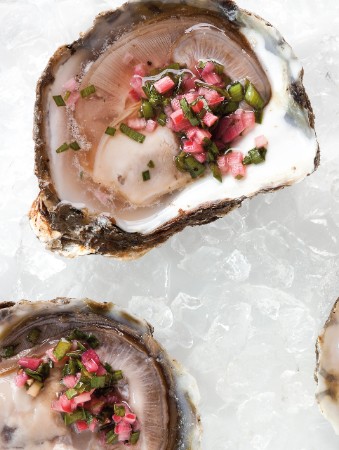 Spring Mignonette
Printemps 2014
BY: Signe Langford
The traditional mignonette can be all vinegar and not much else. This springtime version is tart without being too aggressive. It's peppery, a shade sweeter and complements a briny, dry, metallic, tannic oyster beautifully. According to Oyster expert Patrick McMurray, tangy mignonettes were invented for this kind of oyster—osterea edulis—or, Scottish Loch Ryan, Irish Galway Flats, French Belon or American Maine Belon.Chinese chives are much bigger and coarser than the North American variety. Look for them in Asian markets. Make sure to use seasoned rice wine vinegar. It contains some salt and sugar and adds to the overall flavour of the mignonette. But read the ingredients, as some brands are sweetened with artificial sweeteners.
¾ cup (175 mL) fresh rhubarb, about 1½ stalks, trimmed, very finely diced
½ cup (125 mL) fresh Chinese chives, very finely chopped
½ cup (125 mL) seasoned rice wine vinegar
2 tsp (10 mL) freshly ground black pepper—fairly coarse
1 Wash and trim the rhubarb, discarding the leafy tops and tough bottoms. Dice very finely—to about the size of a whole peppercorn. Add to a non-reactive bowl, glass is best.

2 Wash and trim the Chinese chives, discarding the tough bottoms, and set aside the blossom tops to use as a garnish, if desired. Finely chop chives to the same size as the rhubarb and add to the bowl. If Chinese chives are unavailable, use the North American variety.

3 Add the vinegar and pepper, cover and refrigerate for at least a full 24 hours. This mignonette needs to macerate and mellow or it will be too harsh.

4 To serve, simply dot on top of freshly shucked oysters on the half shell or leave it optional by setting it out in a little dish with a spoon.
Makes about 1½ cups (375 mL),
SHARE