Spicy Roasted Brussels Sprouts
Holiday 2017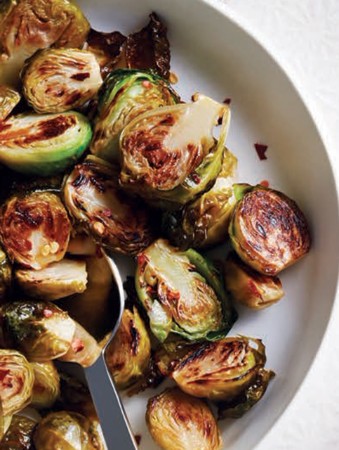 Spicy Roasted Brussels Sprouts
Holiday 2017
BY: Amy Rosen
If you grew up dreading the holiday Brussels sprouts, please try this recipe instead. With a slightly charred outer shell spiced up with some red pepper flakes, and cooked to a soft emerald green within, this dish will create new, happier holiday Brussels sprouts memories.
1 lb (500 g) Brussels sprouts
1 tbsp (15 mL) olive oil
A good pinch sea salt
½ tsp (2 mL) red pepper flakes
1. Preheat oven to 400°F (200°C).

2. Cut off the rough ends of the sprouts and pull off any discoloured or loose outer leaves. Slice in half, from roots to tops. Pour prepped sprouts onto a baking sheet and toss with olive oil, salt and red pepper flakes. Roast for 20 to 25 minutes, shaking the pan halfway through so the Brussels sprouts evenly brown. In the end, they'll be crisp on the outside and be soft and mellow on the inside.
SHARE