Spicy Plum Ginger Ale
Été 2016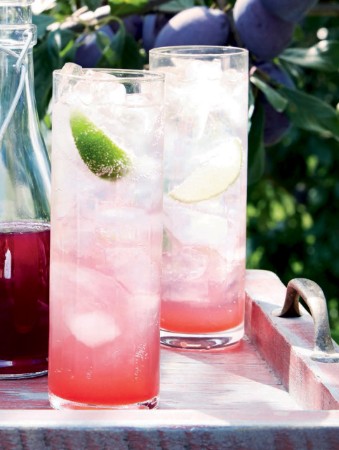 Spicy Plum Ginger Ale
Été 2016
BY: Eric Vellend
Ripe plums give this refreshing soda a deep fuchsia hue, while a generous amount of ginger delivers a spicy kick. The lime lends its sparkle of acidity and ties all the flavours together. It will be hard to go back to bottled ginger ale.
2 oz Plum-Ginger Syrup, chilled (recipe follows)
½ oz strained fresh lime juice
6 oz soda, chilled
Lime wedge to garnish
1 Fill a chilled Highball glass three-quarters full with ice. Add Plum-Ginger Syrup and lime juice. Top with soda. Lightly stir until evenly coloured. Garnish with lime wedge.



PLUM-GINGER SYRUP
Feel free to substitute any plums in season—yellow, red or damson, for example—as long as they're ripe and fragrant. This syrup can also be used to sweeten iced tea; or drizzle it over vanilla ice cream with sliced plums for a quick sundae.

2½ oz (75 g) fresh ginger
3 ripe black plums (about ¾ lb or 375 g), diced
1 cup (250 mL) water
1 cup (250 mL) granulated sugar
2 wide strips lemon zest
1 Peel ginger and finely grate on a rasp set over a small bowl. You should have about 3 tbsp (45 mL) of grated ginger and juice. Set aside.

2 In a large saucepan, bring plums, water and sugar to boil over medium-high heat. Boil 3 minutes. Remove from heat and add ginger and lemon zest. Cover and let stand 45 minutes.

3 Fine strain into bowl, pressing gently on solids to extract syrup; discard solids. Cool to room temperature. Transfer to a glass jar with lid. Refrigerate up to 1 month.
SHARE