Spiced Shrimp
Temps des Fêtes 2008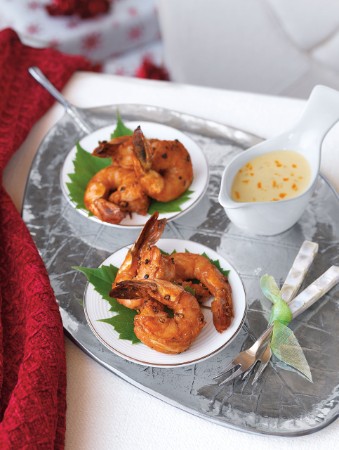 Spiced Shrimp
Temps des Fêtes 2008
Roger Mooking

This low-effort dish is spicy-hot and sweetly cool, like spending a winter's eve by a roaring fire. To get you out of the kitchen faster, buy peeled and deveined shrimp, and choose "tail-on" for elegant gripping and dipping. Frozen shrimp are fine. Thaw overnight in the refrigerator.
1 tsp (5 mL) sweet paprika
1 tsp (5 mL) ground coriander seeds
⅛ tsp (0.5 mL) ground green cardamom seeds
1 tsp (5 mL) coarsely ground black pepper
½ tsp (2 mL) lemon zest
3 tbsp (45 mL) 2% yogurt
⅛ tsp (0.5 mL) cayenne pepper
¼ tsp (1 mL) finely chopped garlic
½ tsp (2 mL) finely chopped ginger
1 lb (500 g) large shrimp, peeled and deveined, tail-on, approx. 20 to 25 pieces
Kosher salt
1. Preheat oven to 450ºF (230ºC).

2. Combine yogurt, paprika, coriander, black pepper, cardamom, cayenne, lemon rind, ginger and garlic in a large mixing bowl, and stir until well combined.

3. Add shrimp to yogurt mixture, and marinate for 30 minutes in the refrigerator.

4. Remove shrimp from refrigerator 10 minutes before cooking. Lay the shrimp out in a single layer on a lightly oiled baking sheet, and season with salt. Bake in preheated oven for 6 to 7 minutes or until the shrimp turn pink, and are just cooked through. Serve shrimp warm with cool citrus yogurt (recipe follows) for dipping.
SHARE