Spiced Ginger Soufflé
Temps des Fêtes 2008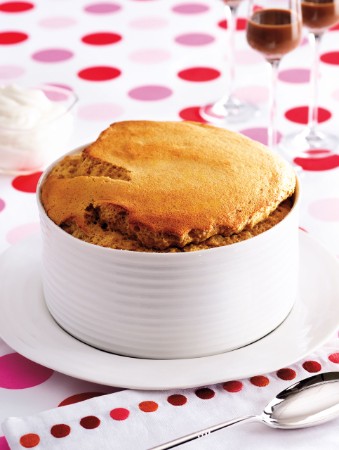 Spiced Ginger Soufflé
Temps des Fêtes 2008
BY: Jennifer McLagan
Baking with ginger makes the house smell like Christmas, and this soufflé's taste echoes spice cookies and gingerbread―perfect for ginger cookie lovers.
One 6-cup (1.5-L) soufflé dish or six ¾-cup (175-mL) ovenproof ramekins
1 tsp (10 mL) unsalted butter, softened
¼ cup (50 mL) sugar
2 tbsp (25 mL) molasses
1 tbsp (15 mL) flour
1 tbsp (15 mL) ground ginger
Pinch of ground cloves
Pinch of fine sea salt
1 cup (250 mL) whole milk
3 egg yolks
4 egg whites
¼ tsp (1 mL) cream of tartar
1. Butter the soufflé dish or ramekins and then, using about 2 tbsp (25 mL) of the sugar, coat the base and sides, then refrigerate until ready to use.

2. In a small saucepan combine the molasses, flour, ginger, cloves and salt. Whisk together then slowly whisk in the milk. Bring to a boil over medium heat whisking, and then cook for 1 minute, whisking continually. Remove from heat and whisk in the egg yolks, 1 at a time. Pour into a bowl; cover the surface directly with plastic wrap and leave to cool at room temperature.

3. Preheat the oven to 400ºF (200ºC).

4. With an electric beater, whisk the egg whites until frothy. Add the cream of tartar and continue to whisk until soft peaks appear. Slowly add the remaining sugar and continue to whisk until the whites are thick and glossy.

5. Add a small amount of whisked egg whites to the ginger/molasses mixture. Stir well to mix then add the lightened mixture to the egg whites. Using a spatula carefully fold them together. Spoon the mixture into the prepared dish (es), piling up in the centre and then smooth the top. With a clean thumb make a trough around edge of each dish to detach mixture from sides, then place, on a baking sheet.

6. Lower the oven to 375ºF (190ºC).

7. Place on the middle rack and bake until puffed and just firm to the touch, about 15 minutes for individual soufflés and 25 to 30 minutes for a large one. Serve immediately.
SHARE