Spiced Coconut Daiquiri
Printemps 2017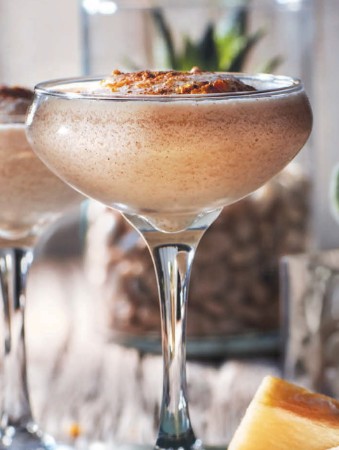 Spiced Coconut Daiquiri
Printemps 2017
BY: Lucy Waverman
There are two ways of making a Daiquiri—shaken with ice in a cocktail shaker or blended with ice in a blender. This creamy blended version is cool and refreshing with sweet notes from the spices. The zesty lime and cooling coconut flavours complement salty, fried and spicy foods, making this a perfect accompaniment to our Yucca Fries with Mojo Sauce.
3 ice cubes
¼ cup (60 mL) coconut milk
1½ oz spiced rum
½ oz Triple Sec
1 tbsp (15 mL) Simple Syrup
1 tbsp (15 mL) orange juice
1 tbsp (15 mL) lime juice
¼ tsp (1 mL) cinnamon
⅛ tsp (0.5 mL) freshly grated nutmeg

GARNISH
Dash of ginger bitters
Pinch of cinnamon
Pinch of grated orange zest
1. Blend ice, coconut milk, rum, Triple Sec, Simple Syrup, orange juice, lime juice, cinnamon and nutmeg in a blender until cocktail is a slushy consistency.

2. Pour into glass and garnish with a dash of bitters and the cinnamon and orange zest.

SIMPLE SYRUP

1. Combine equal parts boiling water and sugar, stir until sugar has dissolved, and store in fridge until chilled.
SHARE