Spiced Beer Battered Onion Rings
Winter 2002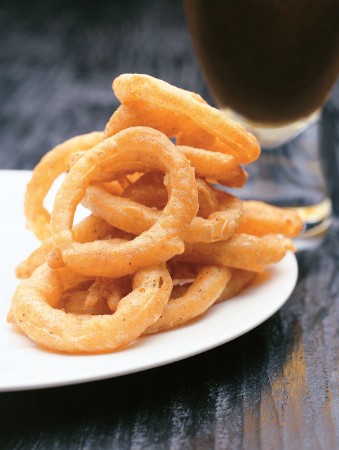 Spiced Beer Battered Onion Rings
Winter 2002
BY: Lucy Waverman
This tempura-like batter makes a crisp coated onion ring. Spanish onions are the best choice for onion rings. Serve with spicy steak for a delicious dinner.
1 cup (250 mL) lager
1 cup (250 mL) all-purpose flour
2 tsp (10 mL) paprika
2 tsp (10 mL) ground cumin
1/2 tsp (2 mL) cayenne
2 tsp (10 mL) salt
2 tbsp (25 mL) vegetable oil
2 large Spanish onions, peeled
Oil for deep frying
1. Whisk together lager, flour, paprika, cumin, cayenne, salt and vegetable oil in a large bowl.
2. Cut onions into 1/4-inch (5 mm) rounds, separate into rings.
3. Heat oil in wok or deep fryer until thermometer reaches 350°F (180°C). Stir rings into batter and fry a few at a time until golden, about 2 to 3 minutes. Drain on paper towels.
SHARE