Spanish Tortilla
Été 2018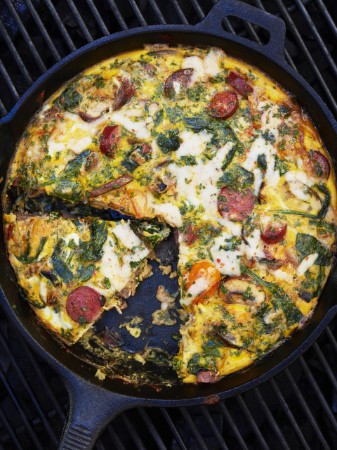 Spanish Tortilla
Été 2018
BY: Signe Langford
Leftover hot dogs, sausages and ribs can be a tad wizened or dried out the next day, but incorporating them into something moist, cheesy and delicious will resurrect even the saddest bit of leftover barbecue. We're starting with three leftover all-beef grilled hot dogs, but use whatever you have on hand: pork sausage, chicken dogs, a few ribs or a mix. Toss in any amount—this recipe is super flexible! If using leftover ribs, simply scrape as much meat off as you can, then chop it finely. If you have any leftover grilled veggies—corn, peppers, onions, zucchini, etc. —this is a great way to use them up, too! 
2 cups (500 mL) halved mini potatoes; a mix of blue, red skin and yellow flesh is nice
3 tbsp (45 mL) olive oil
1 tbsp (15 mL) butter
1 small to medium red onion, roughly chopped 
3 cups (750 mL) sliced mushrooms; use any type or a mix of mushrooms you like
1 small to medium red, orange or green bell pepper, julienned
1 clove garlic, minced
8 cups (2 L) baby spinach leaves
1 tsp (5 mL) smoked paprika
½ tsp (2 mL) sea salt, or more to taste
½ tsp (2 mL) black pepper, or more to taste
Any amount of leftover hot dogs or sausages, cut into coins, and/or leftover rib meat, chopped finely
1¼ cups (310 mL) grated pepper jack, mozzarella or old, strong cheddar
½ cup (125 mL) finely chopped fresh flat-leaf (Italian) parsley
12 free-run eggs, beaten
¾ cup (175 mL) 10% cream or whole milk


1. Preheat oven to 375oF (190oC).

2. Add cut potatoes to a large pot of cold water over high heat; boil until potato halves are fork-tender, about 5 minutes. Drain and set aside to dry.

3. Into a large (10 x 12-inch/25 x 30-cm) ovenproof skillet over medium heat, add olive oil, butter, onion, mushroom and peppers. Cook, stirring often until somewhat softened, about 5 minutes. Add the garlic, stir and cook for about 1 minute.

4. Add the spinach, smoked paprika, salt and pepper; stir often and fry 2 to 4 minutes or until the spinach has wilted enough to make room for the drained potatoes. Add the potatoes; stir and continue to cook for another minute or so.

5. Add the hot dogs or other meat; stir to combine. Remove from heat.

6. Sprinkle the cheese all over, then sprinkle the parsley all over the cheese; set aside.

7. Into a large bowl, add the eggs and cream; beat well with a whisk. Pour the egg mixture over the skillet of ingredients then pop into the oven. Bake until top is somewhat set and becoming golden here and there, about 15 minutes.

8. Spanish tortilla tastes best served warm, not hot, so allow to rest for about 15 minutes before enjoying.



SHARE