Spaghetti with Olive Oil and Garlic
Printemps 2004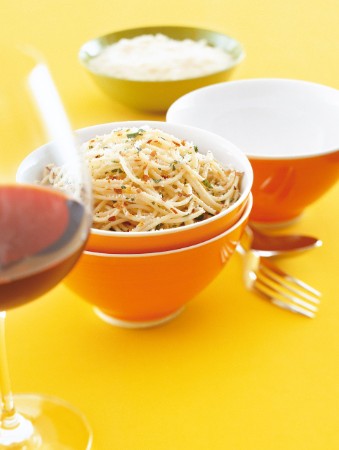 Spaghetti with Olive Oil and Garlic
Printemps 2004
BY: Lucy Waverman
The simplest pasta dish. Use the best olive oil and the best Parmigiano Reggiano (Italian Parmesan) cheese.
1 lb (500 g) spaghetti
1/2 cup (125 mL) extra virgin olive oil
3 cloves garlic, minced
1 tsp (5 mL) dried chili flakes
1/4 cup (50 mL) chopped Italian parsley
Kosher salt to taste
1/2 cup (125 mL) grated Parmigiano Reggiano
1. Bring large pot of salted water to boil. Add spaghetti and return to a boil. Cook for 10 minutes or until pasta is al dente. Remove from heat and drain.
2. Heat olive oil in a pan over low heat. Add garlic and chili flakes and simmer for 5 minutes or until garlic is golden.
3. Toss pasta with garlic oil and parsley until well combined. Season well with salt and serve. Garnish each portion with Parmigiano Reggiano.
Serves 8 as an appetizer or 4 as a main course
SHARE