Smoky Salt Chocolate Brownie Bars
Printemps 2019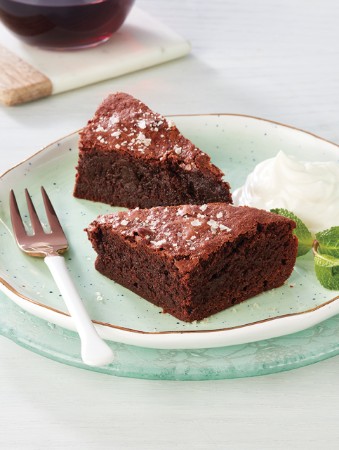 Smoky Salt Chocolate Brownie Bars
Printemps 2019
Salt balances sweetness in baking, and this bar—with its smoky salt topping and punch of ancho chili peppers—is perfect for impressing people with your knowledge of flavour effects.
8 oz (225 g) dark chocolate (64 to 70% cocoa), chopped
1 cup (250 mL) unsalted butter, cubed
1½ cups (375 mL) granulated sugar
4 eggs
1 tsp (5 mL) vanilla extract
1 cup (250 mL) all-purpose flour
¼ cup (60 mL) cocoa powder
1 tsp (5 mL) ancho chili powder
2 tbsp (30 mL) smoked flaked salt (such as Maldon or other brands), divided
1 Preheat oven to 350°F (180°C). Grease an 8-inch (2-L) square cake pan and line bottom with parchment paper.

2 Melt chocolate and butter in a heavy pot over low heat, stirring occasionally, about 8 minutes. Transfer chocolate mixture to a large bowl and set aside to cool for 5 minutes.

3 Stir sugar into chocolate mixture. Stir in eggs one at a time until incorporated. Stir in vanilla.

4 Sift together flour, cocoa and ancho powder. Add dry mixture and ½ tsp (2 mL) smoked salt into chocolate mixture until just combined.

5 Pour into pan and smooth top.

6 Bake for 27 to 30 minutes or until top is crackled and centre is still tender. You want the centre to be slightly gooey. Sprinkle with remaining smoked salt while hot. Cool in pan for 10 minutes then transfer to a rack to cool completely.

7 Cut into bars with a sharp knife.
SHARE