Smoked Salmon Kettle Chip Bites
Summer 2009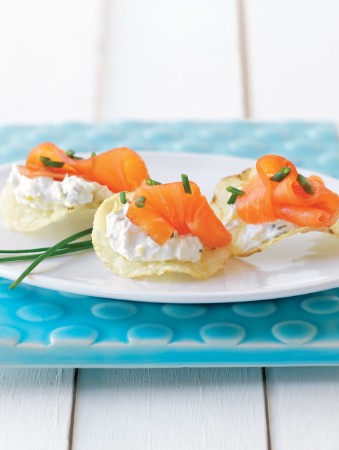 Smoked Salmon Kettle Chip Bites
Summer 2009
BY: Emily Richards
The lemon kick in each bite works well to balance the salt in the chips and smoked salmon. No time to prepare the chips? Simply chop the smoked salmon, stir into the cream cheese mixture and serve it as a dip for the chips.
1⁄2 cup (125 mL) light cream cheese, softened
1 tbsp (15 mL) horseradish
1 tbsp (15 mL) minced shallot
2 tsp (10 mL) minced capers
1 small clove garlic, minced
1 tsp (5 mL) grated lemon rind
1 tbsp (15 mL) lemon juice
1 bag (210 g) kettle cooked potato chips
1 pkg (85 g) sliced smoked salmon
2 tbsp (25 mL) chopped fresh chives
1. Using an electric hand mixer, beat cream cheese until fluffy. Beat in horseradish, shallot, capers, garlic, lemon rind and juice until smooth.

2. Empty chips onto large plate and select flat, similar-sized chips. Dollop a small amount of the mixture onto chips and set on serving platter.

3. Cut smoked salmon into thin strips and place decoratively on top of cream cheese mixture. Sprinkle with chives before serving.
SHARE