Smoked Salmon and Brie Quiche
Hiver 2006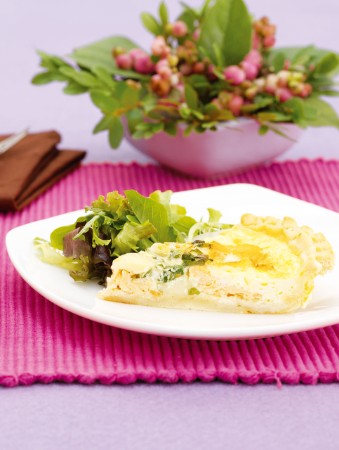 Smoked Salmon and Brie Quiche
Hiver 2006
BY: Heather Trim
There are reasons quiche has been around so long - it calls for basic ingredients and the results are so gratifying. Serve with a green salad.
9-inch (23-cm) frozen deep dish pie shell
1 cup (250 mL) 10% table cream
3 eggs
¼ tsp (1 mL) salt
Pinch cayenne
3 oz (90 g) double or triple cream brie
3 oz (90 g) smoked salmon
2 green onions
1. Bake shell according to directions on box for a baked pie shell. Remove from oven and reduce oven temperature to 350ºF (180ºC).

2. Place cooled pie shell on baking sheet. Whisk cream with eggs, salt and cayenne. Without removing rind, cut cheese into ½-inch (1-cm) pieces. Slice salmon into pieces about the same size. Thinly slice onions. Scatter all over bottom on pie shell, evenly distributing. Carefully pour in cream mixture.

3. Bake in centre of preheated oven until set and golden, 30 to 35 minutes. Cool 5 minutes before slicing.
SHARE