Smoked Duck & Autumn Fruit Skewers
Autumn 2018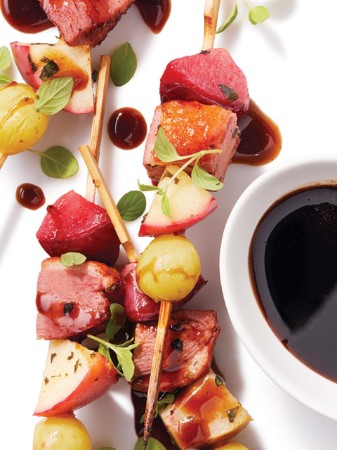 Smoked Duck & Autumn Fruit Skewers
Autumn 2018
BY: Monda Rosenberg
Warm harvest fruit, arranged beautifully on cocktail skewers, is a welcome start to any meal. Adding pieces of sumptuous smoked duck lifts these nibbles from humble to haute, especially with a dusting of five-spice seasoning. When making your fruit choices, keep a mix of colours in mind. If you chose a ruby-skinned plum, consider a green-skinned apple or pear. We've stuck to Ontario fruit, but clementine sections, for example, as well as dark grapes also look good. The final touch is a spiced maple-balsamic syrup to use as a dip or drizzle over the kebabs just before serving.
SPICED MAPLE–BALSAMIC SYRUP
½ cup (125 mL) maple syrup
2 tbsp (30 mL) balsamic vinegar
¼ tsp (1 mL) cinnamon
Generous pinch of ground cardamom

SKEWERS
24 skewers, about 4 inches (10 cm) long
1 smoked duck breast, about 12 oz (340 g)
Five-spice powder
Green seedless grapes, about 6
2 plums, preferably one golden and one red-skinned
1 small apple
1 small pear or peach
½ cup (125 mL) melted butter
2 tbsp (30 mL) finely chopped fresh marjoram or lemon thyme
Fresh marjoram or lemon thyme leaves for garnish
1. In a small saucepan, stir maple syrup with balsamic, cinnamon and cardamom. Place over medium heat. When it comes to a boil, reduce heat so it boils gently. Continue, stirring occasionally, until as thick as you like, about 10 minutes to use as a dip or 15 minutes to use as a drizzle. (If making ahead, syrup will keep well for a day when stored in a sealed jar at room temperature.)

2. Preheat oven to 500°F (260°C).

3. If using bamboo skewers, soak them in water for half an hour. Slice duck across the breast, about ¾ inch (2 cm) thick. Cut slices into thirds. Lightly sprinkle with five-spice powder and rub into the duck.

4. Remove stems from grapes. Slice remaining fruit into ½-inch (1-cm) wedges. Then cut into appropriate sizes so at least 3 pieces can fit on each skewer. Stir butter with chopped fresh arjoram.

5. On each skewer, thread 1 piece of duck and 2 to 3 pieces of fruit, alternating the order and trimming pieces as needed. Baste with herbed butter and place on a parchment-paper-lined baking sheet. Roast in the oven until warm, 3 to 5 minutes. Serve with syrup in a small dish for dipping, or place skewers on a serving dish and drizzle syrup overtop. Sprinkle with fresh marjoram leaves, if desired.
SHARE