Slow Roasted Wild Salmon and Colcannon Potato
Automne 2006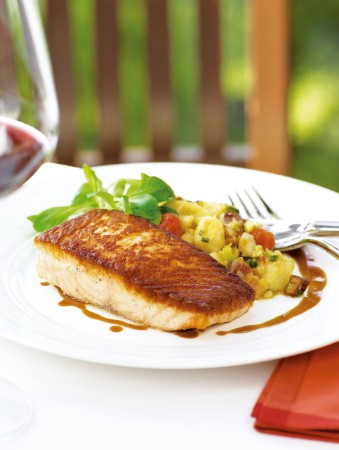 Slow Roasted Wild Salmon and Colcannon Potato
Automne 2006
BY: Jeff Crump, Chef, The Ancaster Old Mill
Jeff Crump serves this dish with both a red wine reduction and a chive beurre blanc. In her test kitchen, Lucy Waverman found the red wine reduction an excellent accompaniment on its own.
3 tbsp (45 mL) extra virgin olive oil
¾ cup (175 mL) smoked bacon, finely chopped
1½ cups (375 mL) finely sliced leeks
5 cherry tomatoes, cut in half
2 tbsp (25 mL) chopped thyme
2 tbsp (25 mL) white wine
12 oz (375 g) yellow fleshed potato, cut into bite-sized pieces
Salt
¼ cup (50 mL) fresh chives, finely chopped
Salt and freshly ground pepper
1 tbsp (15 mL) olive oil
Four 6 oz (175 g) pieces of wild or organic salmon, skin on
1½ cups (375 mL) red wine, preferably Gamay
1 chopped shallot
2 tsp (10 mL) sugar
1. Heat 1 tbsp (15 mL) olive oil in a frying pan over medium heat. Add bacon and cook for 3 to 4 minutes or until crisp. Add leeks, tomatoes, thyme and wine and cook until leeks are soft, about 5 minutes. Set aside.

2. Place potatoes and enough cold water to cover in a saucepan over medium heat. Season liberally with salt so that the water tastes salty. Cook potatoes at a gentle simmer until tender, about 10 minutes. Drain potatoes and place, still steaming, in the skillet with the bacon and leeks.

3. Add chives and remaining oil. Using a fork, lightly mash the potatoes into the leek mixture until they are crushed but still chunky. Season with salt and pepper.

4. Preheat oven to 200ºF (100ºC).

5. Season fish with salt and pepper.

6. Heat a cast iron pan or other heavy pan over high heat. When pan is very hot, add 1 tbsp (15 mL) olive oil and sear salmon flesh-side down for 2 minutes or until the fish is browned with a thick, crisp crust. Flip fish over and cook skin-side-down for 2 minutes longer. Place fish on a baking sheet and bake for 10 to 15 minutes or until fish is just cooked through.

7. Combine red wine, shallot and sugar in a skillet, bring to a boil, turn heat to medium and simmer for 12 minutes or until mixture is thickened and reduced to ¼ cup (50 mL). Strain out shallots.

8. Place potatoes and fish on dinner plates. Drizzle some red wine reduction around.
SHARE