Slow-Roasted Trout with Olive & Citrus Salsa
Spring 2019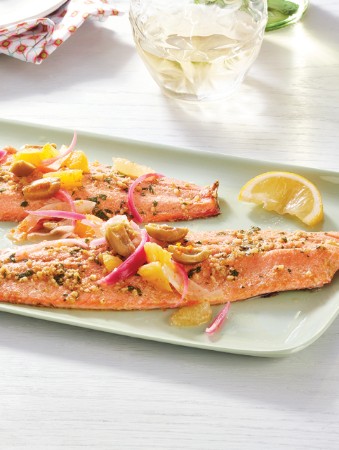 Slow-Roasted Trout with Olive & Citrus Salsa
Spring 2019
Slow-roasting fish gives a slightly different texture than higher heat. It is moist and soft with perfect mouth feel. The addition of the citrus intensifies the flavour and the salsa is the perfect garnish. If whole fish is hard to find, use two pieces of boned trout and cook one on top of the other (skin-side down and up). Serve per person a whole fish if they are small, or cut in half for larger trout. The fennel stalks not used in the salsa can be used as a bed for roasting the fish, if desired. To remove the bone from the fish after cooking, use a blunt knife and fork. The bone will slide right out. Steamed red potatoes with chives are an excellent accompaniment.
¼ cup (60 mL) olive oil
¼ cup (60 mL) chopped parsley
1 tbsp (15 mL) lemon zest
2 tsp (10 mL) chopped garlic
1 tsp (5 mL) ground cumin
2 whole trout, cleaned and gutted, about 1 to 1¼ lbs (455 to 570 g) each or 4 fillets of trout, each 8 oz (225 g)
Salt and freshly ground pepper to taste
Olive & Citrus Salsa (recipe follows)
1 Preheat oven to 275°F (140°C).

2 Combine olive oil, parsley, lemon zest, garlic and cumin in a food processor or with a hand blender. Pulse until finely chopped and almost smooth.

3 Open trout flat, season with salt and pepper and spoon 3 tbsp (45 mL) mixture into the cavity. Close trout and spread more mixture over skin. Repeat with second trout.

4 Place on a parchment-lined baking sheet.

5 Bake until white juices begin to appear, about 20 to 30 minutes, depending on size.

6 Serve whole or half a trout per person alongside Olive & Citrus Salsa.
Olive & Citrus Salsa
This pretty salsa/salad is a true contrast to the fish. It is a mild-tasting pickled condiment with the addition of oranges, lemons and some olive oil to enhance richness.

⅔ cup (150 mL) water
⅓ cup (80 mL) white wine vinegar
2 tbsp (30 mL) sugar
2 tsp (10 mL) kosher salt
2 tsp (10 mL) togarashi or pickling spice
1 cup (250 mL) shaved fennel, about ½ bulb
½ cup (125 mL) thinly sliced red onion, about ½ an onion
1 cup (250 mL) pitted green olives, chopped
½ cup (125 mL) peeled, seeded and chopped orange, about 1 small orange
⅓ cup (80 mL) peeled, seeded and chopped lemon, about 1 small lemon
½ tsp (2 mL) grated orange zest
3 tbsp (45 mL) olive oil
Salt and freshly ground pepper
1 Bring water, vinegar, sugar, salt and spice to boil in a small pot. Stir until sugar and salt dissolve, about 2 minutes. Simmer 2 minutes.

2 Place fennel and onion in a heatproof bowl. Pour hot pickling liquid over fennel and onion and let sit until fully cool, about 45 minutes. Drain fennel and onion, discarding liquid.

3 Combine olives, chopped citrus and orange zest with pickled fennel and onion. Add olive oil and season with salt and pepper. Let sit for at least 30 minutes before serving.


Makes about 2 cups (500 mL)
SHARE