Slow Barbecued Pork Ribs with Chilean Salad
Early Summer 2005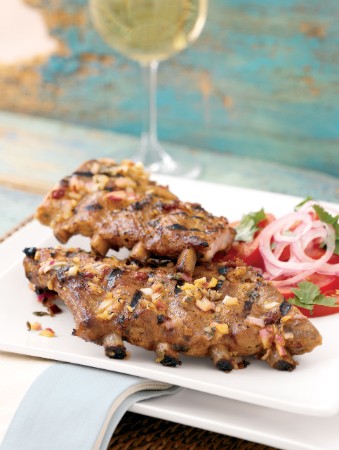 Slow Barbecued Pork Ribs with Chilean Salad
Early Summer 2005
BY: Lucy Waverman
These can be slow cooked on the grill or cooked in the oven for 1 hour before grilling. Use back ribs for the most flavour. Chipotle peppers are available in cans sold as chipotle in adobo - the adobo sauce being a tomato-based, very spicy sauce that you can also include in many recipes. If this is unavailable then use 2 tbsp (25 mL) Asian chili sauce.
1 tbsp (15 mL) chopped garlic
2 tbsp (25 mL) fresh oregano
¼ cup (50 mL) orange juice
¼ cup (50 mL) lime juice
1 tsp (5 mL) honey
1 cup (250 mL) chopped red onion
1 tsp (5 mL) chopped chipotle pepper
1 tbsp (15 mL) adobo sauce
¼ cup (50 mL) vegetable oil
3 lb (1.5 kg) pork back ribs
Salt
1. Combine garlic, oregano, orange juice, lime juice, honey, red onion, chipotle pepper and adobo sauce and vegetable oil in a bowl. Cut each rack in half. Place ribs in baking dish and pour over marinade. Marinate for 4 hours or overnight in refrigerator. Turn ribs several times if possible.

2.  Preheat oven to 300ºF (150ºC).

3.  Season meat with salt and place meat and marinade in a roasting pan. Bake, uncovered for one hour.

4.  Preheat grill to low and turn off 1 element. Remove ribs from pan and place on turned-off side. Grill slowly, turning twice for 1 hour or until ribs are cooked through and glazed.

5. Serve with Chilean Salad (recipe follows).
Chilean Salad
3 cups (750 mL) sliced tomatoes
1 cup (250 mL) finely sliced sweet or red onions
Salt and freshly ground pepper
3 tbsp (45 mL) olive oil
1 tsp (5 mL) lemon juice
1 tbsp (15 mL) chopped coriander leaves


1. Mix tomatoes, onion, salt and pepper together on a platter.

2. Combine oil and lemon juice and pour over salad. Sprinkle coriander leaves on top.
SHARE