Slow-Barbecued Caribbean Pork
Early Summer 2007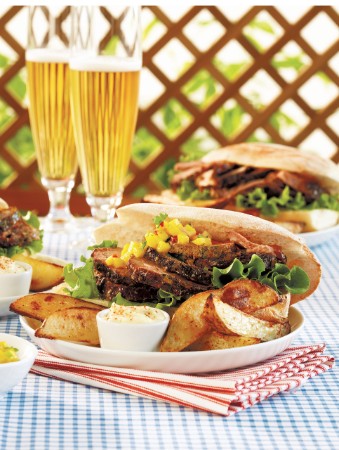 Slow-Barbecued Caribbean Pork
Early Summer 2007
BY: Jennifer MacKenzie
Braised to moist tenderness with Island seasonings, pork shoulder roast is not only economical, it's robust with flavour. If using a gas barbecue, more than 1 burner is essential to cook with indirect heat. If your barbecue doesn't have a built-in thermometer, place an oven thermometer on the unlit side beside the roast to be sure the temperature is maintained. The oven version is just as tasty and easy. Cut roast into thin slices and serve on roti, tortillas or buns and top with fresh, colourful Mango Salsa and Chili Potato Wedges (recipes follow).
4 lb (2 kg) boneless pork shoulder blade (butt) roast, tied
4 cloves garlic, minced
2 tbsp (25 mL) minced fresh ginger root
2 tbsp (25 mL) packed brown sugar
1 tbsp (15 mL) minced fresh hot pepper
1 tbsp (15 mL) dried thyme
1 tsp (5 mL) ground allspice
1 tsp (5 mL) salt
½ tsp (2 mL) ground cinnamon
1 cup (250 mL) coconut milk
¼ cup (50 mL) freshly squeezed lime juice
1.  Place roast in a large foil pan (for barbecue) or a roasting pan (for oven). Combine garlic, ginger, sugar, hot pepper, thyme, allspice, salt and cinnamon in a bowl. Stir in 1 tbsp (15 mL) of the coconut milk. Spread all over roast. Let stand at room temperature for 30 minutes.

2.  Meanwhile, preheat the barbecue to high or oven to 350°F (180°C).

3.  Combine remaining coconut milk and lime juice and pour around roast in pan. Cover entire pan with foil, sealing tightly around pan but not touching roast.

4.  If barbecuing, turn 1 side of barbecue off and reduce other burner(s) to medium-high or temperature required to maintain 350°F (180°C). Place pan on unlit side of barbecue or place in oven. Grill or roast for 2 to ½ hours.

5.  Uncover and baste roast with pan juices. Grill or roast, uncovered, for 30 to 45 minutes longer, basting twice more, until fork tender and a meat thermometer reads 170°F (75°C). Tent with foil and let stand for 15 minutes before carving.

6.  Transfer roast to a cutting board, discarding pan juices. Cut off strings and cut roast into thin slices. Serve with Mango Salsa and Chili Potato Wedges.

Mango Salsa
This fresh and tangy salsa is the perfect complement to the pork. It is best made just before serving but can be covered and refrigerated for up to 2 hours.

2 firm ripe mangos
1 tsp (5 mL) grated lime zest
2 tbsp (25 mL) freshly squeezed lime juice
2 tbsp chopped fresh cilantro
1 tsp (5 mL) minced fresh hot peppers (or to taste)
¼ tsp (1 mL) salt
1.  Peel mango and cut flesh from pits. Dice flesh and place in a bowl. Add lime zest, lime juice, cilantro, hot pepper and salt. Toss gently to combine. Taste and check seasonings.
Makes about 2 cups (500 mL)

Chili Potato Wedges
Traditional foil-packet barbecued potatoes get a boost that will liven up any barbecue meal. Ancho chili powder is increasingly available and gives a nice chili flavour without overpowering heat. If you like a smoky heat, add ¼ tsp (1 mL) chipotle pepper powder to the butter mixture. The zesty dip is easily put together as the crispy-crusted potatoes cook.

3 lbs (1.5 kg) baking potatoes (russet or Yukon gold)
¼ cup (50 mL) butter, softened
1½ tsp (7 mL) ancho or other chili powder
1 tsp (5 mL) sea salt or kosher salt
¼ tsp (1 mL) freshly ground black pepper

Dip
1 cup (250 mL) sour cream or mayonnaise
1 tsp (5 mL) grated lime zest
¼ tsp (1 mL) ancho or other chili powder
1. Preheat the barbecue to medium-high or oven to 350ºF (180ºC).

2. Scrub potatoes under running water. Pat dry and cut each lengthwise into 8 wedges. Place on a large piece of heavy-duty foil.

3. Mash butter, chili powder, salt and pepper together in a bowl. Drop in small dollops randomly over potatoes on foil. Top with another large piece of foil and seal both pieces together with a tightly crimped edge. Slide onto a baking sheet.

4. Slide packet off baking sheet onto grill or place on sheet in oven. Grill or bake for 30 minutes, gently shaking packet a few times and flipping over halfway. Carefully unseal a small section and check potatoes with a fork to ensure they are tender. If not, reseal and cook for 5 to 10 minutes longer.

5. Meanwhile, make dip. Combine sour cream, lime zest and chili powder in a serving bowl.

6. Let potatoes stand for 5 minutes. Open packet and, using a lifter, remove potatoes from foil (you may have to scrape the crispy ones) and transfer to a serving platter. Serve dip on the side.
SHARE