Simple Buttermilk Waffles
Early Summer 2002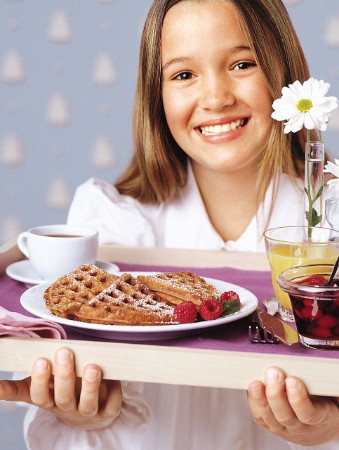 Simple Buttermilk Waffles
Early Summer 2002
BY: Eshun Mott
These waffles are light without the usual work of separating eggs and whipping the whites. The waffles can be cooked the night before and popped into the toaster in the morning for an instant breakfast treat.
2 cups (500 mL) all-purpose flour
1 tbsp (15 mL) sugar
2 tsp (10 mL) baking soda
2 tsp (10 mL) baking powder
1 tsp (5 mL) salt
1 tsp (5 mL) cinnamon
4 eggs
2 cups (500 mL) buttermilk
2 tbsp (25 mL) melted butter
1. Lightly grease and preheat waffle iron.
2. Place flour, sugar, baking soda, baking powder, salt and cinnamon in a medium bowl. Stir with a whisk to combine.
3. Crack eggs onto flour mixture and pour buttermilk and melted butter on top of eggs. Gently stir ingredients together until they create a lumpy batter. Do not over mix.
4. Spoon 1/3 to 1/2 cup (75 to 125 mL) batter into prepared waffle iron and bake for about 2 minutes, or until crisp and golden. Repeat using remaining batter.

Toppings: Berry Syrup
1 cup (250 mL) maple syrup
2 cups (500 mL) raspberries, blueberries or sliced strawberries
1. Place syrup and berries in a small saucepan, and cook gently over low heat for 2 to 3 minutes, or until berries have softened slightly and syrup is coloured with berry juices.
SHARE