Silken Goulash with Gouda Crisps
Holiday 2017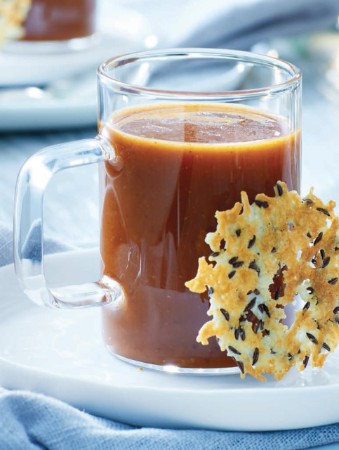 Silken Goulash with Gouda Crisps
Holiday 2017
BY: Christopher St. Onge
Inspired by a favourite Hungarian goulash recipe, this intensely flavoured sipper and accompanying cheese crisps make a welcome treat on a cold, celebratory winter's night. Campbell's makes a premium shelf-stable beef stock that is widely available and works beautifully here. Use sweet paprika, not one labelled hot.
1 tbsp (15 mL) grape-seed or canola oil
1 tbsp (15 mL) butter
1 small onion, chopped
2 cloves garlic, finely chopped
1 tsp (5 mL) caraway seeds
1 tsp (5 mL) dried marjoram
2 tbsp (30 mL) Hungarian paprika
1 carton (480 mL) beef stock
1 plum tomato, seeded and chopped
¼ cup (60 mL) chopped carrot
¼ cup (60 mL) chopped parsnip
1 small Yukon Gold potato, peeled and cut into chunks
1 Hungarian wax or cubanelle pepper, seeded and chopped
Salt and freshly ground black pepper to taste

GOUDA CRISPS
1 oz (30 g) aged Gouda, preferably Thunder Oak, finely grated
1½ tsp (7 mL) all-purpose flour
½ tsp (2 mL) caraway seeds
1. Heat oil and butter in a medium saucepan over medium heat. When foaming, add onion and sauté for 6 to 7 minutes, stirring occasionally, until golden. Stir in garlic; cook an additional minute. Sprinkle caraway, marjoram, and paprika over and combine; pour in beef stock. Add tomato and carrot to pot and bring to a boil. Reduce heat to low, cover and simmer for 10 minutes.

2. Stir in parsnip and potato, return to a simmer, cover and cook an additional 20 minutes. Add chopped pepper and simmer 5 minutes longer. Carefully pour mixture into a blender (or use an immersion blender) and process until very smooth. Thin with a little water to loosen if necessary (soup should have the consistency of heavy cream) and season with salt and pepper to taste. (Soup may be made up to 5 days in advance, covered and refrigerated until ready to reheat.)

3. To make the caraway Gouda crisps, combine the cheese, flour, and caraway seeds in a small bowl and toss with a fork to combine.

4. Heat a nonstick skillet over medium-low. Sprinkle a generous tsp (5 mL plus) of cheese mixture into pan, forming a neat 1½ to 2-inch (4 to 5-cm) round. Repeat until pan is full but not crowded. Once edges are golden, carefully flip using an offset spatula. Cook for an additional minute. Repeat with remaining cheese mixture to make 12 crisps. (Crisps may be made up to a day in advance and kept, tightly covered, at room temperature. Re-crisp in a hot oven for 30 seconds or so before serving.)

5. Divide warm soup between 12 small heatproof cups or glasses and serve each with a caraway Gouda crisp.
SHARE