Shrimp Cakes with Dill Remoulade & Fennel Slaw
Early Summer 2016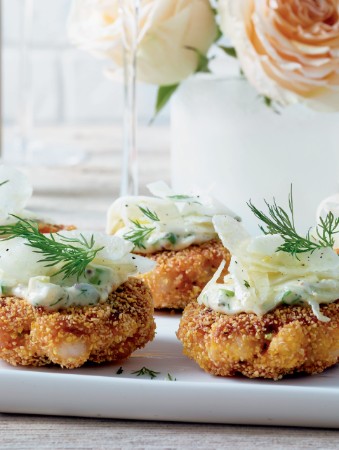 Shrimp Cakes with Dill Remoulade & Fennel Slaw
Early Summer 2016
BY: Eric Vellend
This delightful seafood appetizer offers a complex range of flavours in just a few bites. The secret is to cut the shrimp by hand instead of in the food processor, which gives the fritters a more delicate texture. The cakes can be cooked up to 8 hours ahead of time, refrigerated then reheated in a 350°F (180°C) oven for about 5 to 7 minutes.
DILL REMOULADE
½ cup (125 mL) mayonnaise (reduced fat is fine)
1 small clove garlic, minced
2 tbsp (30 mL) thinly sliced green onion
1 tbsp (15 mL) chopped dill
2 tsp (10 mL) capers, rinsed, chopped
1½ tsp (7 mL) Dijon mustard
1½ tsp (7 mL) grainy mustard
1 tsp (5 mL) fresh lemon juice
½ tsp (2 mL) hot sauce
Salt and freshly ground pepper to taste

FENNEL SLAW
½ fennel bulb, trimmed
1 tbsp (15 mL) extra virgin olive oil
1 tbsp (15 mL) fresh lemon juice
Salt and freshly ground pepper to taste

SHRIMP CAKES
1 lb (500 g) shrimp, peeled, deveined
1 large egg, lightly beaten
1 green onion, thinly sliced
½ tsp (2 mL) smoked paprika
6 tbsp (90 mL) panko bread crumbs
Salt and freshly ground pepper to taste
⅓ cup (80 mL) cornmeal
¼ cup (60 mL) vegetable oil, divided
Dill leaves to garnish
1 For the dill remoulade, combine mayonnaise, garlic, green onion, dill, capers, mustards, lemon juice and hot sauce in a mixing bowl. Stir to combine. Season with salt, if necessary, and pepper. (Remoulade will keep, covered and refrigerated, for 5 days.)

2 For the fennel slaw, cut fennel in half lengthwise through core. Slice thinly crosswise on a mandolin, discarding cores. Add olive oil and lemon juice. Season with salt and pepper. Mix. Cover and refrigerate up to 4 hours. Drain before using.

3 For the shrimp cakes, rinse shrimp and pat dry with paper towel. Using a sharp knife, chop into pieces between ¼ and ½ inch (0.5 to 1 cm). Place in a mixing bowl with egg, onion, smoked paprika and panko. Season with salt, if necessary (most frozen shrimp are salty), and pepper. Cover and refrigerate 30 minutes.

4 Place cornmeal on a plate. Form heaping 2-tbsp (30-mL-plus) portions of shrimp mixture into 2½-inch-diameter (6-cm) patties. Coat patties in cornmeal.

5 Working in 2 batches, heat half of vegetable oil in a large nonstick frying pan over medium-high heat. Pan-fry half of shrimp cakes until cooked through, about 2 minutes per side. Drain on paper towel. Repeat for remaining shrimp cakes.

6 Arrange shrimp cakes on a serving platter. Top each with a dollop of remoulade and some drained fennel slaw. Garnish with dill leaves.
SHARE