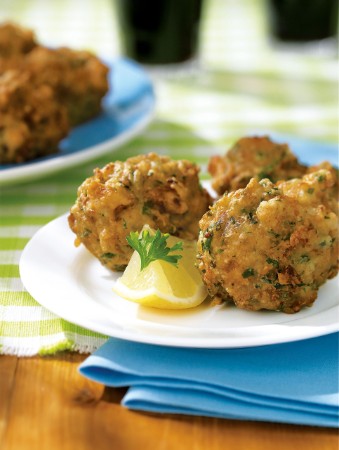 BY: Stephen Vardy, Executive Chef, Beckta Restaurant
Crispy shrimp munchie that you can't stop eating. Serve with a small salad as a first course or pile in a serving dish as an hors d'œuvre.
½ cup (125 mL) finely chopped onion
2 tbsp (25 mL) chopped flat-leaf parsley
1 tbsp (15 mL) finely chopped chives
1½ tsp (7 mL) chopped fresh tarragon
6 oz (175 g) chopped shrimp
1½ tsp (7 mL) sour cream
2 tsp (10 mL) grated lemon rind
Pinch cayenne
1 cup (250 mL) all-purpose flour
¼ tsp (1 mL) baking soda
½ tsp (2 mL) baking powder
1 cup (250 mL) cold water
Salt and freshly ground pepper
Vegetable Oil
1. Combine onion, parsley, chives, tarragon, shrimp, sour cream, lemon rind, cayenne, flour, baking soda and baking powder in a bowl and stir until well incorporated. Stir in water to make a thick batter. Season with salt and pepper. Cover and refrigerate for 3 hours.

2. Add ¾-inch (2-cm) deep of vegetable oil to a wok, deep fryer or deep skillet. Heat on medium heat until a cube of bread turns brown in 25 seconds or temperature reaches 325°F (160°C) on a deep-frying thermometer.

3. Drop 1 tbsp (15 mL) of batter at a time and fry for 1½ to 2 minutes or until golden and cooked through.
SHARE