Shredded Pork Shoulder Roast & Green Bean Salad
Hiver 2013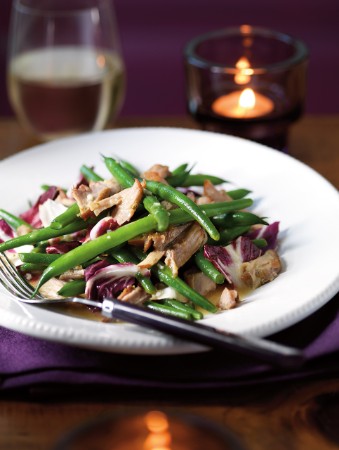 Shredded Pork Shoulder Roast & Green Bean Salad
Hiver 2013
BY: Emily Richards
Combining tender pork roast with green beans makes for a unique and different salad. With the fat throughout the roast this pork dish is tender and very flavourful, hot or cold.
1 boneless pork shoulder roast, about 2 lbs (1 kg)
¼ tsp (1 mL) each salt and pepper
1 tbsp (15 mL) canola oil
1/3 cup (80 mL) apricot jam
1 tbsp (15 mL) Dijon mustard
2 cloves garlic, minced
1 tsp (5 mL) chopped fresh tarragon
1 cup (250 mL) chicken broth or stock
1 lb (500 g) green beans, trimmed
2 cups (500 mL) chopped radicchio

WHITE WINE DRESSING
3 tbsp (45 mL) white wine vinegar
2 tbsp (30 mL) canola oil
1 tsp (5 mL) Dijon mustard
1 small clove garlic, minced
¼ tsp (1 mL) each salt and pepper
1 Sprinkle roast with salt and pepper. Heat oil in a large nonstick skillet over medium-high heat and brown roast on all sides.

2 Combine jam, mustard, garlic and tarragon in a small bowl and spread all over roast.

3 Heat oven to 325°F (160°C).

4 Place roast on rack in roasting pan and pour broth in pan. Cover and place in oven for about 2 hours or until very tender and meat pulls apart easily with 2 forks. Let cool slightly and, using 2 forks, shred meat. Stir in pan juices.

5 Boil beans in salted water for about 5 minutes or until tender-crisp. Drain well and rinse with cold water. Combine with radicchio and toss with shredded pork.

6 To make white wine dressing, whisk together vinegar, oil, mustard, garlic, salt and pepper.Pour over salad and toss to combine.
SHARE