Seared Tomato Salad with Grilled Tuna
Printemps 2008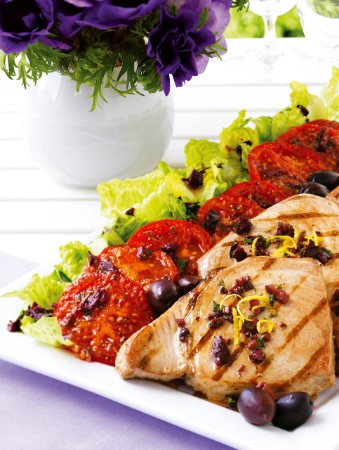 Seared Tomato Salad with Grilled Tuna
Printemps 2008
BY: Marilyn Bentz-Crowley
Even terrific hot-house tomatoes cannot begin to match the intense flavour of those grown and ripened in the hot summer sun. At this time of year, a brief chef-style sear in hot oil concentrates the tomato flavours nicely.
Dressing
12 black Kalamata olives
1 lemon
¼ cup (50 mL) olive oil
1 clove garlic, minced
¼ tsp (1 mL) Dijon mustard
¼ tsp (1 mL) freshly ground black pepper
¼ tsp (1 mL) granulated sugar
1 tbsp (15 mL) finely chopped fresh parsley

Tomatoes
4 large firm-but-ripe round tomatoes, preferably those purchased on a vine
1 to 2 tbsp (15 to 25 mL) olive oil
2 to 3 tbsp (25 to 45 mL) peanut oil

Salad
4 tuna steaks
2 tbsp (25 mL) olive oil
¼ tsp (1 mL) salt
1 small head romaine, cleaned and torn
12 black Kalamata olives
1. To make dressing, pit and finely chop olives. Use a bar tool to create lemon twists (as one would do for a cocktail); set aside for garnish. Then squeeze juice. In a small bowl whisk olive oil with 2 tbsp (25 mL) lemon juice, garlic, mustard, pepper and sugar until well combined. Stir in olives and parsley; set aside. (Covered and refrigerate for up to 2 days; dressing will have become cloudy; bring to room temperature before using.) Set remaining lemon juice aside for tuna.

3. Working in batches and using a spatula, slide tomato slices into hot pan; sear for 1 minute or until underside is browned. Turn and sear the other side. Remove back to plate. Grind a little black pepper overtop and lightly season with salt. Set aside at room temperature.

4. Preheat barbecue or broiler until hot.

5. Place tuna steaks in a plastic bag; add remaining lemon juice, olive oil and salt. Massage tuna steaks in bag until completely coated. Grill or barbecue steaks for 3 to 4 minutes per side or until crusty on the outside but still medium-rare on the inside.

6. Meanwhile, place lettuce on serving plates and top with tomatoes. Drizzle with half of dressing. Place hot tuna on top of seared tomatoes; grind a little black pepper over top. Drizzle with remaining dressing. Garnish with lemon twists and black olives. Serve right away with multi-grain baguette.
SHARE