Seared Scallops with Ginger, Lime & Crispy Leeks
Automne 2018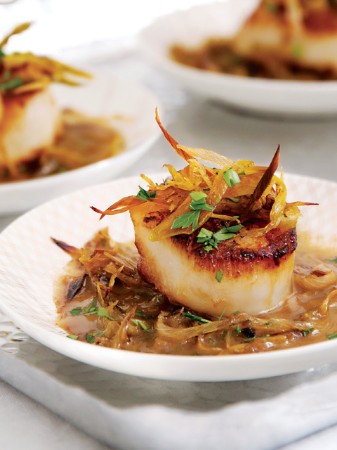 Seared Scallops with Ginger, Lime & Crispy Leeks
Automne 2018
BY: Lucy Waverman
Often a first course whets the appetite for the rest of the meal, so it does not have to be large. Serve just one huge scallop per person. The lime butter can be made a few days ahead of time and refrigerated until needed.
3 leeks, white and light green part only, about 3 cups (750 mL)
3 tbsp (45 mL) olive oil, divided
Salt and freshly ground pepper

GINGER LIME BUTTER
½ cup (125 mL) unsalted butter
2 tsp (10 mL) grated ginger
2 tsp (10 mL) grated lime rind
Salt and pepper
8 jumbo scallops, about 10 per lb/455 g (u 10 size)
2 tbsp (30 mL) finely chopped parsley
1. Preheat oven to 400°F (200°C).

2. Halve leeks lengthwise. Cut each piece into half-moons on a bias. Toss with 2 tbsp (30 mL) oil on a baking sheet. Season with salt and freshly ground pepper, and spread in an even layer. Bake, stirring a few times, until the leeks are crispy and golden brown, but not blackened, about 20 minutes. Reserve.

3. Combine butter, ginger and lime rind in a food processor or by hand. Season well with salt and pepper and leave on the counter to remain at room temperature.

4. Heat remaining 1 tbsp (15 mL) oil with 1 tbsp (15 mL) of the lime butter in frying pan over high heat. Add scallops and sear 3 minutes on the first side, flip scallops over and sear 2 minutes or until just opaque. Remove from pan and keep warm. Toss in half the leeks. Stir in any juices from scallops and the remaining butter. Cook, stirring until butter melts. Spoon leeks and sauce onto 8 plates. Place a large scallop on each plate. Top with remaining leeks and dust with parsley.
SHARE