Seared Foie Gras with Icewine-Caramelized Apples and Baby Greens
Temps des Fêtes 2007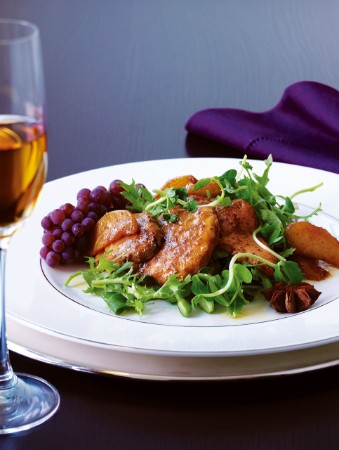 Seared Foie Gras with Icewine-Caramelized Apples and Baby Greens
Temps des Fêtes 2007
BY: Julia Aitken
Slice foie gras with a large sharp chef's knife, dipping the knife into a pitcher of hot water between each cut and discarding any white fat or greenish areas from the foie. If any slices contain visible veins, remove them with clean tweezers.
Apples
2 tbsp (25 mL) lemon juice
3 Granny Smith apples (about 1½ lb/750 g)
¼ cup (50 mL) unsalted clarified butter
1 tsp (5 mL) 5-spice powder
¼ tsp (1 mL) salt
¼ cup (50 mL) icewine

Foie Gras
1 tbsp (15 mL) hazelnut oil
2 tsp (10 mL) white wine vinegar
Salt and freshly ground pepper
4 cups (1 L) lightly packed mixed baby greens (mâche, watercress, pea shoots, etc.)
12 oz (375 g) fresh foie gras, cut into six ¾-inch (2-cm) slices
1. To make Icewine Caramelized Apples, add lemon juice to a large bowl of cold water. Peel and core apples and cut each into 12 wedges, adding them to water as you work.

2. In a large skillet, heat butter over medium-high heat. Add 5-spice powder and salt and cook, stirring, for 1 minute. Drain apples and pat dry on a clean towel. Add apples to skillet and cook, turning often, for 3 to 5 minutes or until almost tender.

3. Add icewine to skillet and cook, turning apples gently for 3 to 5 minutes, until icewine has almost completely evaporated and apples are tender and caramelized but not broken up. Remove from the heat and set aside.

4. To make Seared Foie Gras, just before serving, whisk together hazelnut oil and vinegar and season with salt and pepper. Add greens and toss well. Divide greens among 6 plates.

5. Meanwhile, heat a large good-quality nonstick skillet over medium heat. Cook foie gras for 20 to 30 seconds on each side or until golden (do not overcook or foie gras will disintegrate).

6. Place a slice of foie gras on each portion of greens. Spoon caramelized apples alongside.
SHARE