Seared Foie Gras with Apple Chutney
Temps des Fêtes 2004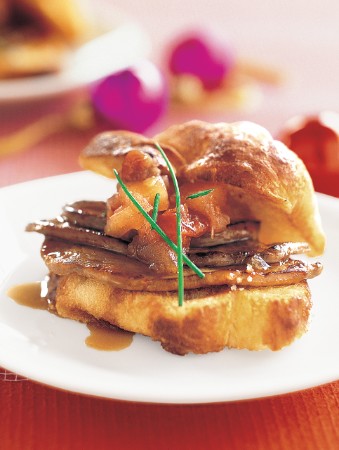 Seared Foie Gras with Apple Chutney
Temps des Fêtes 2004
BY: Lucy Waverman
Foie gras is sold in vacuum-packed pieces, usually about 4 to a package. Otherwise buy a 12 ounce (375 g) piece and cut your own slices. The richness of the foie gras is contrasted by the slightly spicy chutney. Use the same late harvest Riesling in the recipe that you plan to serve with it.
Chutney:
1 tbsp (15 mL) olive oil
½ cup (125 mL) finely chopped onion
1 large Spy apple, peeled, cored and cut into ¼-inch (5-mm) dice
1 tsp (5 mL) finely chopped fresh ginger
2 tbsp (25 mL) chopped dried cherries
3 tbsp (45 mL) packed brown sugar
½ cup (125 mL) rice wine vinegar
Salt to taste

Foie Gras:
Four 3 ounce (100 g) slices foie gras, chilled
Salt and freshly ground pepper

Sauce:
½ cup (125 mL) late harvest Riesling
1 cup (250 mL) chicken stock
Salt and freshly ground pepper
½ tsp (2 mL) fleur de sel
Sliced toasted brioche
1. In a medium saucepan, heat oil over medium heat, add onions and sauté for 2 minutes or until translucent.

2. Add apples and cook 3 minutes or until softened. Add ginger and sauté for 1 minute; add cherries, brown sugar and vinegar. Stir together and cook over low heat for 7 to 10 minutes or until liquid has evaporated and chutney has caramelized slightly. Salt, if desired.

3. Season foie gras with salt and pepper. Heat a nonstick skillet over high heat. When it is hot, add foie gras and sear for about 30 seconds per side or until golden. Transfer to a plate and set aside.

4. Discard fat from skillet and add late harvest Riesling. Boil for 30 seconds or until reduced by half. Add stock and boil for 2 to 3 minutes more or until mixture has reduced and thickened slightly. Season with salt and pepper.

5. Sprinkle foie gras with a little fleur de sel and serve on toasted brioche with a drizzle of sauce and a spoonful of chutney.
SHARE