Seared Beef Sushi
Autumn 2005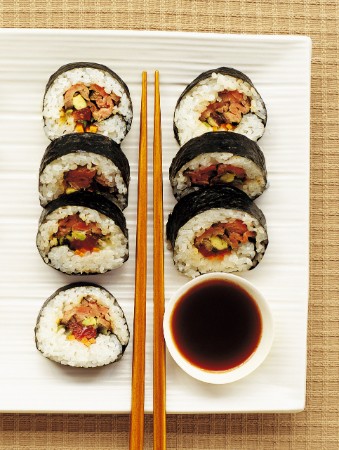 Seared Beef Sushi
Autumn 2005
BY: Marilyn Bentz-Crowley
While the concept is Japanese, seared beef is not traditional however, it is delicious. And since the flank steak is both cooked and familiar, guests are enthusiastic about indulging in several pieces. The recipe can easily be doubled for a large gathering. A single flank steak usually weighs about 2 lbs or 1 kg. If purchasing the whole steak, cut in half. The remaining half can be frozen to use later in a stir-fry - or for another batch of sushi.
Beef
1 lb (500 g) flank steak
2 tbsp (25 mL) tamari soy sauce
1 tsp (5 mL) granulated sugar
2 tsp (10 mL) dark sesame oil
1 tbsp (15 mL) finely grated fresh ginger
1 large clove garlic, minced
1 tbsp (15 mL) peanut or other vegetable oil

Sauce
½ cup (125 mL) seasoned rice-wine vinegar
¼ cup (50 mL) tamari soy sauce
2 tsp (10 mL)very finely grated fresh ginger
2 tsp (10 mL) sriracha chili sauce or other fiery hot sauce

Rice
2 cups (500 mL) sushi rice
2 cups (500 mL) cold water
Pinch salt
4 tbsp (60 mL) seasoned rice-wine vinegar

Assembly
½ ripe avocado
1 large plum tomato
1 large green onion
1 medium carrot
4 sheets toasted nori
One 1.52 oz (43 g) tube prepared Japanese horseradish (wasabi)
1.To prepare beef, stir soy sauce with sugar, sesame oil, ginger and garlic. Pour over beef; cover and marinate in the refrigerator several hours or overnight. Turn beef at least once during marinating. When ready to sear, heat peanut oil in a heavy frying pan over medium heat. Lift steak from marinade. Discard marinade.

2. When oil is very hot, add steak and sear on each side for 5 minutes or until crusty and beef is cooked medium-rare. Remove beef; cool on a plate.

3. For sauce, stir rice-wine vinegar with soy sauce, ginger and hot sauce. Beef and sauce can be made a day ahead; cover and refrigerate separately.

4. To make rice, place in a sieve. Wash under cold running tap water until water runs clear. Drain and place in saucepan with measured water and a pinch of salt. Soak 30 minutes. Cover and bring to a boil over high heat. Reduce heat to very low; simmer 15 minutes. Without lifting lid, remove rice from heat; let stand for another 15 minutes.

5. For easy cleanup, lightly coat a metal tray with cooking spray; turn rice out onto tray. Fan briefly to cool. Gently spread out with a spatula; sprinkle with half of vinegar. Using a folding motion, lift rice until liquid is absorbed; then add remaining vinegar. Repeat folding and fanning rice until steam stops rising; cover with a dampened tea towel. Rice can be made a couple of hours ahead, however do not refrigerate.

6. To assemble rolls, peel, remove stone and thinly slice avocado. Cut tomato in half lengthwise, then use a spoon to remove seeds and ribs, leaving just a shell. Slice tomato lengthwise into thin strips. Diagonally slice green onion; finely julienne or grate carrot.
7. Lay a sheet of nori on a rolling mat or sheet of plastic wrap. Using wet fingers, spread a quarter of the rice over top, leaving 1-inch (2.5-cm) at one long end uncovered. About a third of the way from the rice-covered long end, decoratively place together in a long line 2 to 3 strips of beef and some of prepared avocado, tomato, onion and carrot. Use the mat or plastic wrap to help lift and form into a thick roll. When nearly rolled up, wet uncovered nori with wet fingers and finish rolling. Repeat; all the assembly ingredients may not be used. Wrap each roll tightly in plastic wrap; refrigerate up to half a day or until needed.

8. To serve, unwrap rolls. Thinly slice off ends, then cut each roll crosswise into 8 pieces. Arrange in a single layer on a plate. Pour sauce into a shallow bowl for dipping. Offer a small dish of wasabi for those who like sushi to be truly fiery.
SHARE