Seared Ahi Tuna with Avocado and Lemon Soy Dressing
Début de l'été 2008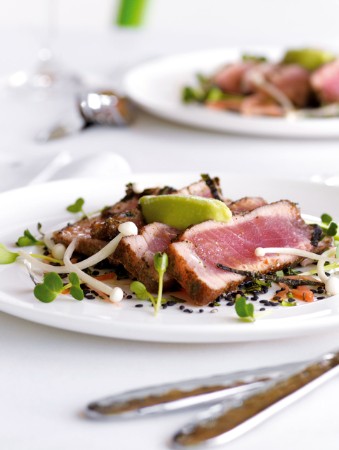 Seared Ahi Tuna with Avocado and Lemon Soy Dressing
Début de l'été 2008
BY: Lucy Waverman
An interesting first course with decadent-tasting sliced tuna enhanced by a light avocado mousse and lots of tasty garnishes. This can be made ahead of time. Grind the bay leaves in a spice grinder or, if you do not have one, chop them as finely as possible.
Confit-Crusted Ahi
2 tbsp (25 mL) kosher salt
1 tbsp (15 mL) chopped fresh thyme
1½ tsp (7 mL) ground coriander
1½ tsp (7 mL) ground allspice
1½ tsp (7 mL) ground ginger
4 bay leaves, powdered
Pinch ground cloves
Pinch ground nutmeg
16 oz (500 g) sushi-grade ahi tuna
1 tbsp (15 mL) vegetable oil

Lemon Soy Dressing
¼ cup (50 mL) olive oil
2 tbsp (25 mL) lemon juice
1 tbsp (15 mL) soy sauce

Avocado Mousse
1 ripe avocado
1 tbsp (15 mL) crème fraîche or sour cream
2 tbsp (25 mL) orange juice
2 tbsp (25 mL) lemon juice
Salt and freshly ground pepper

Garnish
2 tsp (10 mL) minced tarragon
2 tsp (10 mL) black sesame seeds
¼ sheet of nori, cut into slivers
¼ cup (50 mL) enoki mushrooms
¼ cup (50 mL) daikon sprouts
1 tbsp (15 mL) pickled ginger, cut into slivers
1. Combine kosher salt, thyme, coriander, allspice, ginger, powdered bay leaves, cloves and nutmeg to make confit spice. Coat tuna on all sides with confit spice.

2. Heat oil in a skillet over high heat. Place tuna in skillet and sear about 1 minute per side, or until browned outside and still rare in the centre. Chill in refrigerator.

3. For dressing, whisk together olive oil, lemon juice and soy sauce and reserve.

4. Scrape flesh of avocado into a medium mixing bowl, discarding skin and pit. Mash with a fork and pass through a sieve for smoothness. Add crème fraîche, orange and lemon juices and stir gently to combine. It should have the texture of whipped cream. Season with salt and pepper to taste. Cover and chill in refrigerator until required.

5. When ready to serve, sprinkle tarragon and sesame seeds over 4 plates. Slice tuna against the grain into ¼-inch-thick (5-mm) pieces. Divide into 4 portions and arrange pieces in a line, overlapping slightly. Drizzle over lemon soy dressing. Sprinkle nori, enoki mushrooms, daikon sprouts and pickled ginger around tuna. Using 2 spoons, scoop avocado mousse on to 1 spoon, then round out with the second spoon to create a quenelle of mousse. Place quenelle on top of tuna.
SHARE